Until I got invited to my niece's nuptials on Turks and Caicos, I had never even heard the term "destination wedding."
In the aftermath of this auspicious event, it is not a phrase I will soon forget.
A British Overseas Territory, Turks and Caicos (aka "TCI") is a group of islands between the Bahamas and Hispaniola, roughly 650 miles southeast of Miami. My sister's daughter, having fallen hard for a handsome and chivalrous Texas gent, wanted a truly special day; so she chose a very exclusive, very all-inclusive and very expensive resort on Providenciales, a Caicos island that hosts TCI's major airport. (I am herein omitting the name of the bride's high-class tropical haven for reasons that will become apparent later.)
Left Lane Right
Though my wife and I were determined to attend, we noted room rates starting around $1,000 a night. Thinking perhaps we would not be the only invitees who didn't wish to afford the resort itself, we found a terrific four-bedroom VRBO house with its own swimming pool and a great view of the islands' luminous turquoise waters. (Especially enchanting is the way these pearly pastel blues are reflected along the bottoms of low-lying clouds over the ocean—something I had never seen before.)
We flew out of Central PA through Charlotte, NC, and were effortlessly whisked through customs at Providenciales. Grabbing an Avis rental, I manned up for my first-ever ordeal of driving on the left side of the road—having also learned beforehand that there are no traffic lights on the island; every major intersection is a roundabout, with politely British "GIVE WAY" signs instead of "YIELD."
If we never had an accident, it was not for lack of trying. My ever-vigilant helpmeet was consistently compelled to cry out "Left lane, left lane!"—as though I had suddenly gone deaf, or blind—or both. And all this while she struggled with sketchy GPS that didn't seem to enjoy being in a different country. Judging by the honks, exasperated patience and wildly weaving taxis, locals are tolerant but not thrilled by the influx of tourist-tyros who haven't quite mastered the traffic rules.
Latitude Adjustments
After settling into our handsome home-away-from-home—which, like most of the island, was swept by 20- or 30-mile-an-hour winds morning, noon and night—we sallied out for groceries and ran straight into our second major adjustment: somewhat limited stock, and somewhat unlimited prices. Nine dollars for my go-to hummus; $5 for a two-liter soda; nearly $20 for a packet of good coffee. We spent $110 on two bags of foodstuffs, later meeting a more seasoned traveler who said his gang always checked a suitcase full of groceries whenever they came.
Despite our spacious and affordable digs, no other family members were able to join us—except our 33-year-old son, who was flying in the next afternoon. We decided to spend that morning snorkeling. Having researched good reefs, we swiftly encountered yet another international adjustment.
To state it broadly, TCI hasn't quite nailed down the service-economy aspect of a vacation destination. More specifically, we could find none of the helpful signage we usually rely on when seeking beaches and parks. Indeed, to reach the island's best reef—Smith's—one drives to a tiny cul-de-sac and then squeezes up a narrow, unmarked, unpaved lane so small that we missed it the first time. (Admittedly, we were partly thrown off by a set of residential trashcans standing at the intersection.)
Tropical Splendor
Assuming this was just someone's driveway, and that access to Smith's was not to be had, we drove instead to the similarly sign-less Bight Park, where an easily accessible reef lies about half a mile up the beach. And here we discovered the upside of ignoring services and tourists: no crowds!
In this western section of Grace Bay—which offers many resorts at its eastern end—we stood looking at a strip of absolutely gorgeous tropical beach stretching more than a mile in both directions; and in all that sunlit splendor, I couldn't spot more than a dozen people, almost none of them in the water. We had the reef completely to ourselves.
Granted, this was early on a weekday morning, but we had the same experience when we finally found our way to Smith's around noon the following Saturday: Solitary snorkeling in warm tranquil waters; fairly shallow reefs; colorful tangs, wrasses, parrotfish, pufferfish, stingrays, turtles and reclusive rock lobsters; plus a rather too large and inquisitive barracuda.
All just thrilling.
Personae Non Grata
After picking up our son and enjoying dinner at the popular Mango Reef restaurant—where some of the sizable portions went home for next day's lunch—we began looking into how to access the guests-only resort for the next day's 6:30 p.m. wedding.
Using the contact listed at their website, I had emailed the resort three months earlier on this score but received no reply. Now similarly unable to get any answer on the phone, we were finally told by an online chat-guy that this high-end resort—so exclusive that it wasn't even listed among the dozens on our Avis map—no longer granted access to non-guests at any time.
So now we started wondering if we'd even be able to attend at all—at which point I enlisted the bride's mother (my sis), who certainly had enough on her plate at the time. Nonetheless, she was finally told by a manager that the bride's uncle and family would have to pay $150 for a "day-pass" to get in.
That's $150 each.
I suggested that given this outlay, perhaps we could come early and avail ourselves of the resort's pool and buoyed-in beach, which was complete with its own waterborne trampoline. But we decided against that upon learning that this arrangement would cost us not $150, but $300 each; our nearly $500 bought us only four hours at the heavenly venue. Imagine our relief when we learned that this block of time actually did include most of the reception.
"This better be one hell of a wedding," I said to myself.
Which actually, it kinda was.
Holding Their Liquor
Arriving around 5:30, we introduced ourselves to several of the groomsmen—a bunch of Texas boys who, as far as the all-inclusive alcohol was concerned, seemed to have had the pedal to the metal since 10 a.m.
On the previous day.
While most brides are nervous right before their nuptials, our niece seemed more rattled than usual, having essentially failed to ride herd on this rodeo through the previous evening's rambunctious rehearsal. After a befuddling conversation with one thoroughly pie-eyed groomsman who was slated to walk my sister up the aisle, I concluded that more likely she would be the one assisting him. But lo and behold, he managed it manfully, getting her snugly into place facing a handsome gazebo on the resort's breezy, sunlit pier.
Those Texas fellas sure can hold their liquor.
Speaking of which: Matt the officiant soon appeared in a churchly robe and bare feet, still clutching his latest drink, which he was thoughtful enough to set down during the ceremony. Once the obsequies began, Matt insisted he would keep his comments family-friendly—though he did drop the F-bomb at least twice, making us glad we didn't get the "unfriendly" version.
Later, Matt swapped into clothes that seemed more ordinary but still odd for a tropical-resort wedding: bare feet, full-length jeans and a long-sleeved denim button-down—with a cap for the Marlboro NASCAR racing team.
Pedal to the metal, indeed.
Bigger in Texas
There's an old joke that asks, "So if your wedding goes off without a hitch, did you actually get married?" I can't say there was no hitch here, but the union did successfully occur, with great acclamation and a pair of properly radiant newlyweds.
After a seaside sunset photo-shoot that got the bride's gown quite sandy and wet, we settled in for a meal at a table with my sister, her husband and, happily, two of the only other people at the gig who did not appear headed for a three-day hangover. The pie-eyed sister-guide stopped by to fire numerous questions at our mild-mannered son, utterly failing to find common ground in the vital areas of alcohol, partying and female anatomy.
Along these same lines, I noted that most of the bridesmaids had changed into looser clothes, leaving a whole lot less to the imagination. Knowing something of the bride's own history, I asked my sister if it was just me, or did most of the attendant ladies seem to have augmented the anatomical gifts God had given them? She confirmed my suspicions by suggesting the bride was probably the last person in her circle to do so.
"Well," I quipped, "I guess things really are bigger in Texas."
Sis doesn't usually appreciate my jokes, but in this case she nearly burst out laughing. Or should I say, "busted out."
Overstaying Our Welcome
After a course or two of our meal, another flustered groomsman began bouncing between tables seeking a pen for someone at the bar. As an author and a retired English teacher who is rarely unequipped for writing, I volunteered.
Now being myself two or three beers in, I approached the bar with the proffered Pilot and somewhat unwisely demanded, "What is this, a test to see if he can still write his own name?"
The bar-side pen-seeker turned out to be the best man—who, perhaps more gassed than any of us, had just figured out that he was going to have to make a speech. Given these circumstances and my button-pushing insult, his cross-eyed glare suggested I would soon have my head and all four limbs carelessly but swiftly detached from my torso. However, I was in possession of the pen he needed.
The resulting speech was a good deal more heartfelt than coherent, in particular as the first full minute was repeated verbatim—for reasons that remain unclear. Also, it had more than two F-bombs.
But we had soon overstayed our welcome, since the entrée for our 8 p.m. meal did not arrive till 10:15—and it wasn't worth the wait.
Or the $150.
The next table over had already caved, as one of its chairs was now occupied by half a dozen take-out pizzas; sis later told me the resort's restaurant provides these virtually any time as part of the all-inclusive package.
If only we had known.
We finally left around 10:40, with no apparent surcharge for the extra time—even though I had snatched several cookies and croissants from the resort's vaunted 24-hour-a-day "snack station."
"As You Wish"
After a morning snorkel, we spent the following day reading, relaxing and strolling through the Grace Bay resort area, which again seemed remarkably low-key and uncrowded: no traffic, plenty of free parking, friendly feral cats padding about and ample restaurant seating despite our Saturday evening dine-time.
Kind of a different world from Myrtle Beach.
In fact, having learned our way around TCI, while somehow avoiding vehicular homicide, my wife and I have already booked a return—especially since she discovered affordable beachside rentals near Smith's Reef.
Talking later with sis and niece, I learned that the vaunted venue had not been terribly cooperative with flowers and other amenities—or rather, they cooperated only at the cost of constant "upcharges." Nonetheless, in spite of losing their initial date and nearly a year of compromises, mother, daughter and bridesmaids managed a lot of loveliness in that locale: Rose gold and blue bridal-party colors, each woman's gown styled individually; comfy casual groomsmen; gorgeous flowers orchestrated at a distance of 1500 miles; and generous swag-bags along with other sparkling decor that the women flew over from Texas and New York in several chock-full checked bags.
The bride insisted that with the winsome weather and all this worthy work, it really was the wedding of her dreams.
"All the stress and chaos was worth it in the end: beautiful, funny and memorable guests, friends and family—never to be forgotten."
I guess hearts are also bigger in Texas.
About the Author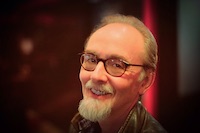 Joseph W. Smith III is a teacher, writer and speaker in Central Pennsylvania. With degrees from Syracuse and NYU, Joe taught high school English for 30 years before retiring to focus on writing. He has compiled seven books, including studies of Hitchcock, the Bible, church life and under-the-radar movies; he also writes for several periodicals and websites. Joe is a church officer, community band member, beer snob, Buffalo Bills fan, book-group leader and lifelong reader who listens to music whenever not sleeping. Contact him directly at robbwhitefan@gmail.com.
All images courtesy of the author.
Want to connect with fellow travelers? Join our NEW Facebook community and share your insights and questions with nomads, expats, and other travel lovers worldwide!
Frayed Passport is a participant in the Amazon Associates Program, an affiliate advertising program designed to provide a means for sites to earn advertising fees by advertising and linking to Amazon.com.