By: Sarah Stone
Working on a cruise ship is a fantastic way to explore exciting destinations, enhance your resume, and meet wonderful people from all over the world.
Cruise companies look for friendly, service-oriented applicants who are ready to work hard to deliver an excellent experience for passengers. The types of jobs you'll find can range from entry-level—such as retail or guest services—to more specialized roles like fitness instruction or entertainment.
And there are many different types of cruises, from smaller river tours to giant ocean-faring ships, family-friendly vacations to rugged adventure tours, and everything in between. Once you start researching cruise ship jobs, you'll find lots of opportunities for people of all backgrounds and skill sets.
Read on if you've wondered what to expect from working on a cruise line!
What are some of the most exciting jobs you can apply for on a cruise ship?
There are tons of different job types you can find on cruise ships! Some of the more popular positions include:
Entertainment: These employees help put on shows, games, and activities for passengers—common positions include dancers, singers, musicians, DJs, tech, and more.
Guest services: These crew members assist passengers with any needs or questions they may have throughout their voyage.
Food and beverage: Jobs in this area include servers, bartenders, baristas, chefs, and other cook staff.
Youth staff: These team members work in the ship's children's and teen centers, leading activities and creating a fun environment for younger passengers.
Retail staff: Employees here work in the different shops on board, such as duty-free stores and boutiques.
What are the benefits of working on a cruise ship?
Working on a cruise ship offers lots of benefits—with travel of course being one of the biggest draws. You'll have the chance to see and get to know different destinations, whether country-hopping on a large ship or keeping to smaller areas on a river line or similar. Plus, you'll have the fantastic opportunity to work with people from all over the world (and meet passengers from everywhere)!
Salaries for cruise ship employees vary greatly depending on the position and the level of expertise and experience you need. According to ZipRecruiter, the average annual wage for cruise ship workers is just under $50,000. While you're working on a ship, your cost of living is covered—including room and board, meals, and other day-to-day needs—allowing you to save up more than you might think.
Many cruise lines offer training and opportunities for growth and advancement within the company. For example, entry-level positions such as housekeeping or food service staff can often lead to more advanced roles such as department head or manager.
Some lines also offer tuition reimbursement programs and other incentives for employees who wish to pursue further education or training in their work area—like professional certifications or degree programs in hospitality, management, engineering, and more.
Plus, most cruise ship jobs offer time off between contracts, allowing employees to visit new destinations or spend time with friends and family. If you're a student or if you're interested in seasonal work, this may be the perfect job for you!
What are the downsides of working on a cruise ship?
Before jumping in, there are some downsides to consider while working on a cruise ship—it's hard work, and you've got to be prepared for everything, both good and not-so-good.
Long hours and hard work: This can be a really demanding job, especially if you're interested in service or hospitality positions. It can be exhausting, and you must have a lot of stamina, flexibility, and patience.
Limited personal space: Crew quarters on a cruise ship can be small and cramped, which may only suit some. If you value absolute privacy and need more personal time and space than a cruise ship job may offer, this might not be the right job for you.
Homesickness: Being away from friends and family for extended periods can lead to homesickness and loneliness. While you'll be able to make lots of new friends, and it can be inspiring and invigorating to meet wonderful new people (and help families and other travelers enjoy a trip of a lifetime!), being away from loved ones can feel a bit isolating.
Limited shore time: Most cruise ship workers have limited time in port, making it difficult to fully experience the destinations they visit. You'll be able to see lots of beautiful places, but you may need more time to immerse yourself in the local culture or get to know the places as deeply as you'd like.
Risk of seasickness: If you're prone to seasickness, you may reconsider applying for a job on a cruise ship (though there are ways that workers find to avoid this, like getting fresh air or taking medications to combat seasickness until they adjust to life on the open water). You also may be at higher risk of common infections like colds or stomach bugs.
What do cruise companies look for when interviewing candidates to work on their ships?
Cruise companies look for a wide variety of qualities when interviewing applicants to work on their ships—in addition to the relevant experience and qualifications for any job that you apply for, here are some skills you'll need:
Customer service skills: This is essential, especially if you're going to work with passengers! You must be patient, flexible, and helpful, especially when things don't go as expected or when dealing with a tricky problem or an unhappy passenger.
Team player mentality: Cruise ship workers must be able to work effectively with a diverse group of people in a fast-paced and high-stress environment.
Positive attitude: You'll need to keep a positive attitude when working with customers and when dealing with difficult-to-solve problems—cruise lines look for applicants who are energetic, enthusiastic, and able to work well under pressure.
Flexibility and adaptability: While working on a cruise ship, you'll navigate a constantly changing environment and unexpected situations—so companies look for flexible candidates who can adapt to new conditions.
Communication skills: Excellent communication ability ( both verbal and written), is crucial for many positions on a cruise ship, as crew members may need to interact with passengers and other crew members from all over the world. In some instances, a cruise line may require language fluency skills.
Physical ability: Some cruise ship jobs require the ability to work on your feet for longer periods, lift heavy objects, and perform physically demanding tasks.
Applying to work on a cruise ship can take several weeks or months (and in some cases, you'll need to start your application many months or even a year in advance of when you'd like to start working), and of course, will vary depending on the cruise line and the position for which you're applying.
Being patient, professional, and persistent throughout the application and onboarding process is essential!
What are the different types of cruises that you can work for?
If you've decided that you'd like to start researching cruise ship jobs, consider the type of line that you want to work for. Let's look at just a few options—click any of the links below to visit the jobs and careers pages for each line.
Larger cruise lines
Smaller cruise lines
Luxury cruises
Family-oriented cruises
River cruises
Adventure cruises
If you've had the opportunity to work on a cruise ship and have advice or stories to share with others interested in this lifestyle, join the Frayed Passport community and start the conversation!
About the Author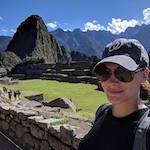 As the editor-in-chief of Frayed Passport, my goal is to help you build a lifestyle that lets you travel the world whenever you want and however long you want, and not worry about where your next paycheck will come from. I've been to 20+ countries and five continents, lived for years as a full-time digital nomad, and have worked completely remotely since 2015. If you would like to share your story with our community, or partner with Frayed Passport, get in touch with me at sarah@frayedpassport.com!
Featured image by Alonso Reyes on Unsplash
Frayed Passport is a participant in the Amazon Associates Program, an affiliate advertising program designed to provide a means for sites to earn advertising fees by advertising and linking to Amazon.com.