By: Sarah Stone
When you start a travel blog, you might wish to expand your format beyond the standard written one. Below are some excellent travel blogs to check out for a variety of formats!
Written Travel Blog
By far the most common and low-maintenance option, a text-based travel blog is simple to create, and aside from learning how to add a new post, it requires no prior knowledge of special software. It can be difficult to force yourself to write often, but if you're able to create a reliable schedule, you can gain some very loyal readers. You'll also want to consider whether you want to share stories, advice, guides, or other content, and whether you would like to publish long- or short-form blog posts.
Two text-based blogs to read:
Incorporating Podcasting into Your Travel Blog
Podcasting is another great option for presenting your travel blog. Not only can you host your recordings directly on your website, but you can also distribute them to a variety of networks like Podcast One, AudioBoom, and others. If you're interested in going this route, think about what your niche will be, whether you would like to host your podcast on your own or with a partner, and if you'd like to incorporate other's stories through interviews and readings. It's also an excellent way to convert video voice-overs to another format that can reach more subscribers. Win win!
A couple of travel podcasters to check out:
Podcasting tutorials:
Vlogging
Depending on the types of videos you'd like to create, your blog can range from a simple, easy-to-upload series to a more complex, polished one. This is a very time-intensive option, but a truly excellent one if you want to expand beyond the traditional travel blog format. Videos can be uploaded and shared across a lot of different platforms, allowing you to reach lots of fellow travelers (and inspire new ones!).
Video blogging tutorials:
Costa Rica is one of the latest countries to jump on the digital nomad trend. The country has scenic nature coupled with great weather all year round. It welcomes foreigners and offers many programs that help them obtain legal residency, whether temporary or permanent. Read on to learn more about different visa types for Costa Rica!
About the Author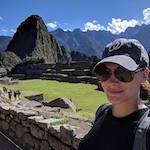 As the editor-in-chief of Frayed Passport, my goal is to help you build a lifestyle that lets you travel the world whenever you want and however long you want, and not worry about where your next paycheck will come from. I've been to 20+ countries and five continents, lived for years as a full-time digital nomad, and have worked completely remotely since 2015. If you would like to share your story with our community, or partner with Frayed Passport, get in touch with me at sarah@frayedpassport.com!
Featured image via Unsplash.
Frayed Passport is a participant in the Amazon Associates Program, an affiliate advertising program designed to provide a means for sites to earn advertising fees by advertising and linking to Amazon.com.