Located along the lovely and lazy Susquehanna River in north-central Pennsylvania, the city of Williamsport is best known as the home of Little League Baseball. Because the league was founded here in 1939, this city hosts the Little League Baseball World Series every August, welcoming thousands of players, fans and families from around the world.
But the bustling and bucolic little city—whose widespread environs hold a population of well over 100,000—has much more to offer than just kids' baseball: scenic hikes and drives; the 192-year-old Repasz Band; a warehouse of 3.5 million antique newspapers; one of America's oldest independent bookshops; a bevy of breweries; and, according to USA Today, one of the 10 best bike rides in the world.
Welcome to Lycoming County.
Take Me Out to the Ball Game
Usually slated for late August, the Little League Baseball World Series brings in 20 teams representing various American regions and also hailing from such farther-off places as Mexico, Cuba, Panama, Puerto Rico, Taiwan, Japan, Africa and Australia. The games are played at a nostalgic two-stadium complex in South Williamsport, while other festivities include a colossal parade, plus the downtown celebration "Williamsport Welcomes the World." The latter, complete with live music, kid zones, merch-vendors and plenty of food and drink, saw 20,000 participants in 2022.
This year's tournament takes place Aug. 16—27, with the Grand Slam Parade on 8/14 and Williamsport Welcomes the World on 8/25.
Out With the Crowd
Lycoming County gets pretty crowded during all this; yet the huge annual influx means this area has ample accommodations for visitors who prefer a quieter stay at other times of the year.
Depending on how close you want to be to downtown, there are easily 20 hotels nearby—including the city's historic Genetti (estab. 1922) and the equally historic but much more recent City Hall Grand, with newly refurbished, individually themed rooms in an impressive stone edifice from the late 1800s.
And the array of local eateries is even wider, with dozens of establishments offering a variety of cuisine. Worthy independent restaurants include the Bullfrog Brewery, the Brickyard, Stonehouse Wood-Fired Pizza, DiSalvo's, the Sticky Elbow, Johnson's in Montoursville, Long Island Pizza, the Herdic House, the Moon & Raven Public House, Franco's Lounge (Italian), Laziza (Indian) and Ozzie & Mae's (Mexican). For take-out, fresh meats and picnics, don't miss Tony's Deli on Washington Blvd.—a tiny space bursting with home-made treats; their mac-and-cheese is a local legend.
Cold Beer Here!
For a small city (the eight-story Genetti is, after all, its only "skyscraper"), Williamsport offers an amazing array of microbreweries—more than 15 within a modest distance from downtown. Watch for Rosko's, Riepstine's, the Bullfrog, Boom City, John Ryan, Bald Birds and, about an hour away in Mifflinburg, the well-worth-a-side-trip Rusty Rail.
As a bona fide beer snob, I must call attention to New Trail, a hole-in-the-wall on the city's west side whose beers—readily available locally in cans—are simply out of this world. A staggering variety of limited-release flavors from recent years includes bananas foster, macaroon, raspberry cinnamon, pinecone, tiramisu, snickerdoodles and, one Valentine's Day, ales made with candy hearts or chocolate-covered strawberries. More traditional drinkers prefer NT's fan-fave Broken Heels IPA.
Book Scores
If you eat, drink or stay downtown, stop in at the Otto's, which bills itself as "America's oldest independently owned bookstore."
Officially founded in 1877, the store may well date back to 1841, as its website carefully explains. In any case, here's another instance of maxing out modest space, with chock-full shelves, employee picks, a massive stock of remaindered bargains, plenty of signed books by local authors and a large, eclectic, user-friendly kids' section.
Likewise intriguing for life-long readers is Timothy Hughes Rare & Early Newspapers in South Williamsport. Though not designed for tourists or browsing, the business is nonetheless among Central PA's most unusual: a two-room, 10,000-square-foot warehouse crammed floor-to-16-foot-ceiling with antique newspapers, some of them hundreds of years old; Hughes actually has one issue from 1532!
Back then, many periodicals were printed on cloth, and thus they've really stood the test of time. However, most customers should use the website for browsing—unless you walk in knowing exactly what you want.
That was the case with me when I stopped by in 2022 seeking magazines edited by Charles Dickens. I was taken to one particular shelf, where I immediately found an issue with the first chapters from "Tale of Two Cities"—possibly the most famous opening passage in all of literature.
Best of times, indeed.
Strike Up the Band(s)
While we're into history: Williamsport is also home to what is likely the nation's oldest community band—the Repasz Band, founded in 1831 and rapidly approaching its 200th anniversary.
Originally a military ensemble, Repasz is perhaps best known for having played at Appomattox in 1865, when Lee surrendered to Grant. In fact, the group performed there again in 2015, when the National Park Service held a 150th anniversary observance at the famed historic site. Repasz also has its own eponymous march, first performed in 1901 and now famous around the world.
The band plays annual spring and holiday concerts at Williamsport's premiere concert venue, the gorgeous and lovingly restored Community Arts Center downtown; they also offer various summer shows as well—schedule available at the band's website.
Likewise in the realm of music: The area's beloved Uptown Music Collective essentially serves as Central PA's "School of Rock." An educational endeavor that teaches kids and teens to play and sing, UMC offers numerous concerts every year, covering all kinds of popular music from country to indie; the talented and popular local institution has staged tributes to such bands as Chicago, Queen, the Eagles, Rush and Pink Floyd. They also perform principally at the CAC; for schedules, see this page.
Short Stops
For those who don't mind a brief drive, here are three other nearby options:
Clyde Peeling's Reptiland, less than 20 minutes south along Route 15, opened 60 years ago with only snakes. Since then, Reptiland has expanded to include over 40 different species: frogs, birds, komodos, gators, lizards, turtles and tortoises—along with pythons, rattlers, mambas and cobras. Super kid-friendly, the zoo offers five daily interactive shows—plus animatronic dinosaurs.
About 45 minutes farther south is Centralia, a world-famous ghost town whose tragic history really merits a separate article. Briefly, the trouble began in 1962, when an underground coal seam somehow caught fire and thereafter proved impossible to extinguish.
Still smoldering and smoking away more than six decades later, the blaze has tunneled extensively under the town, closing highways and creating cave-ins—while also releasing so much carbon monoxide that nearly everyone moved away. All that remains is a handful of residents (who aren't terribly thrilled by visitors), along with a handsome hillside church, two cemeteries and many overgrown streets, with a few foundations still visible here and there.
Till recently, it was popular to visit Centralia's so-called "Graffiti Highway," a closed stretch of Route 62 generously painted with drawings and messages—many of them indecent. But during COVID, the state covered it with fill to discourage infectious gatherings. To be honest, unless you locate one of the occasional smoke-vents (I never have), there isn't much to see in Centralia—but that's kinda the point. It's a little spooky.
Also to the south is Knoebels Amusement Resort in Elysburg. Tremendously popular with locals, this ain't your average amusement park. Sure, it has the usual thrill-rides: a drenching, precipitous flume; ordinary-looking but truly legendary bumper cars; and six killer coasters—two of them wooden.
But in other respects, Knoebels is refreshingly low-key: free parking and free admission, with rides and food at modest prices; a mini-golf course; single-seat, tykes-only railcars powered by a hand-crank; a carousel with an old-fashioned ring-grab; a sprawling 900,000-gallon pool with generous changing rooms and lockers; and my favorite, the Pioneer Train—a miniature but authentic ride so far out into leafy, sunlit woodland that you forget you're at an amusement park. And even amongst the many standard rides and games, Knoebels has something you find at few other venues like this: lots of trees and shade.
Line Drives
Rural routes to and from those three places all make for pleasant driving; If you're on Route 15 over the mountain south of Williamsport, stop at the overlook off the northbound lane; there's quite a vista of the city and the Susquehanna. The overlook is even prettier at night, with much of the county spread out like a twinkling layer of cut glass.
Another great drive is 554 South, which shoots off where 15 turns at the bottom of the mountain in South Williamsport. This twisty route winds around several hairy hairpin turns, soars past the city's reservoir and dam and, as it drops down over the other side of the mountain, offers a vista where you can see for miles. Right at the summit is a small parking area and so-called "Skyline Drive," which traverses the mountain ridge at a well-nigh dizzying height.
The Williamsport area also has ample hunting, camping, bird-watching, fishing and boating. For the latter two, lovely local waterways include the Susquehanna; Pine Creek and its tributary, Little Pine; Lycoming and Loyalsock creeks (the latter is my fave, being a three-minute walk from my house); and the man-made, 360-acre Rose Valley Lake. Be sure to procure proper licenses; for boaters, that includes use of any launches overseen by the PA Fish and Game Commission or the DCNR—even if your craft has no motor.
For the Cycle
In 2001, USA Today wrote up "10 great places to take a bike tour"; one, as it happens, is half an hour from Williamsport.
The 62-mile Pine Creek Rail Trail rolls though terrain that includes creek-sides, roadsides, cliffsides, marshes, meadows, farmland, fern-filled forests, four truss bridges and 16 miles of the Pennsylvania Grand Canyon, a gorgeous valley of tree-clad cliffs climbing close to 1500 feet.
The actual "Mile 1" trailhead is in Wellsboro, a gorgeous hour's drive to the north—and itself a charming tourist-town of shops, restaurants, hotels and bed & breakfasts (the nostalgic Dunham's is like one of those labyrinthine 1960s department stores). The PCRT's southern trailhead stands in the town of Jersey Shore, less than 20 miles from Williamsport.
Running on the beautifully treated and almost perfectly level roadbed of the former New York Central Railroad, the PCRT winds through places so remote that there is no cell service along much of the route. Several restaurants and stores serve bikers and hikers, and there's ample camping as well (though again, this requires a permit from DCNR, which oversees the trail). A handful of local businesses rent bikes, including Pine Creek Outfitters—which also runs various shuttles for folks who prefer to bike in only one direction.
For more information, see my full article: 62 Miles of Biking Heaven—Pennsylvania's Pine Creek Rail Trail
Center Field
At the moment, Williamsport's newly refurbished airport has no commercial flights, though local agencies are working to restore service.
Yet having lived in Lycoming County since 1989, I'm often struck that it never became a conference or retreat destination, given its extraordinary central location.
If you made an uneven circle around Williamsport with a radius of about 190 miles, that arc would run through Syracuse, Buffalo, Pittsburgh, Washington, Baltimore, Philadelphia and New York City.
That's right: Except for Boston, Williamsport is just over three hours away from every major city in the Northeast.
Come visit us sometime.
About the Author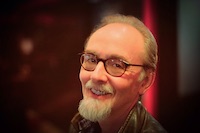 Joseph W. Smith III is a teacher, writer and speaker in Central Pennsylvania. With degrees from Syracuse and NYU, Joe taught high school English for 30 years before retiring to focus on writing. He has compiled seven books, including studies of Hitchcock, the Bible, church life and under-the-radar movies; he also writes for several periodicals and websites. Joe is a church officer, community band member, beer snob, Buffalo Bills fan, book-group leader and lifelong reader who listens to music whenever not sleeping. Contact him directly at robbwhitefan@gmail.com.
All photos courtesy of the author unless otherwise noted.
Want to connect with fellow travelers? Join our NEW Facebook community and share your insights and questions with nomads, expats, and other travel lovers worldwide!
Frayed Passport is a participant in the Amazon Associates Program, an affiliate advertising program designed to provide a means for sites to earn advertising fees by advertising and linking to Amazon.com.