For hikers and bikers, the popularity of rails-to-trails rests on three truths:
First, these routes are mostly flat, since trains can't climb steep grades; second, in rough or rugged terrain, railroads tend to follow scenic waterways; and third, they often go where cars do not.
All of this is proven by the world-famous Pine Creek Rail Trail, 62 miles of biking heaven in the wilds of Northcentral Pennsylvania.
Opened in 1996 and completed 11 years later, the PCRT runs on the abandoned and almost perfectly level roadbed of the former New York Central line ending at Lyons, NY—which explains the "L" on mileposts that still stand sentry along the bike-path. Often short on stores, auto access and cell service, the trail's terrain includes creek-sides, roadsides, cliffsides, marshes, meadows, farmland, fern-filled forests—and 16 miles of the Pennsylvania Grand Canyon, a gorgeous valley of towering cliffs, verdant foliage and rapid-riddled waters. In 2001, USA Today ranked the PCRT among the 10 greatest biking trips in the world.
Let's follow this trail from north to south, shall we? I'll highlight what to expect in each segment, stopping briefly to examine such matters as wildlife, lodging and recreation.
Trailhead to Ansonia, 8 miles
The PCRT kicks off near Wellsboro, PA, a lovely little tourist town of old-fashioned shops, terrific restaurants and generous lodging—though the actual trailhead is tough to find; try plugging in Pag-Omar Farms Market, which stands about 100 yards from the access lot. You might also stop there for drinks, snacks, maps or carry-out lunches; there are no other stores for the first 25 miles of the trail.
This initial leg does not follow Pine Creek, but rather the smaller yet equally charming Marsh Creek. While some find these first miles boring, the surrounding wetlands constitute a bird-lover's paradise, with more than 150 species to spot. I snapped a photo of my first-ever cedar waxwing here, also sighting herons, geese, ducks, thrashers and the elusive kingfisher.
Elsewhere on the trail, look for hawks, ospreys, orioles, turkeys, grouse, hummingbirds and bald eagles. Other wildlife along the PCRT includes raccoons, deer, bears, porcupines, foxes, minks, otters and bobcats.
During spring, watch for snapping turtles crossing the path in this section; they lay their eggs at trailside, and later in the season you'll find piles of empty shells at regular intervals.
Ansonia to Darling Run, 1 mile
Just off Route 6, Ansonia access—also known as Marsh Creek—is one of more than a dozen parking lots attached to the trail. It's a great starting-spot, as the next one-mile segment has much to offer:
Visible to the right is headquarters for Ole Covered Wagon, a horse-drawn carriage ride that traverses the trail down to Tiadaghton. That's possible because the railroad here was double-tracked, with the creek-side path now reserved for the carriage and other horse-riders. (You can bike on it, but it's rougher than the carefully groomed gravel bike trail—and there's an elevation difference, making it tricky to cross between the two.)
As you leave Ansonia, the PCRT crosses Marsh Creek on the first of eight major bridges—though this is the only one where two trestles run side by side. Then it passes under Route 6, and shortly thereafter Pine Creek joins Marsh Creek from the west, a truly enchanting spot. Just south of this bucolic merger, there's a well-established eagle's nest in a conifer across the creek.
Also nearby is Pine Creek Outfitters, which rents all kinds of gear and also provides shuttle services to help with the logistics of one-way biking.
Darling Run to Tiadaghton, 8 miles
The Darling Run lot tends to get crowded on weekends, especially in the fall. That's because the Pennsylvania Grand Canyon starts here, with the tree-clad cliffs climbing close to 1500 feet in some places. This remote area has no cell service as the trail winds along the waterway, which includes several Class III rapids. Kayaks, canoes, rafts and tubes are common, though boaters should check water-levels, which often drop sharply in the summer. Pine Creek Outfitters and Miller's Store in Morris are among several places that rent watercraft. Bike rentals are likewise available at many local establishments.
Eight miles south of Darling Run, the PCRT crosses Turkey Path Trail, which climbs both walls of the gorge to scenic outlooks high above. On the eastern or trail side, the steep and occasionally tricky path runs beside several waterfalls, taking about a mile to get up to Leonard Harrison State Park, which offers spectacular canyon views in both directions. Courageous hikers can also ford the creek and take the similarly arduous 1.5-mile ascent to Colton Point on the west rim—with likewise stunning views and somewhat sparser crowds. (Harrison really gets thronged on autumn weekends.)
Along with Turkey Path, the PCRT connects at various points with many other hiking trails—including the scenic West Rim Trail; the 323-mile Mid-State; and the 9-mile Golden Eagle, which Purple Lizard calls "one of the best day-hikes in Pennsylvania."
Tiadaghton to Blackwell, 8 miles
The Iroquois name for Pine Creek, Tiadaghton is a solitary waterside spot for swimming, picnics and fishing. I've never been here without seeing someone camped in a hammock between its trees; indeed, Tiadaghton is the first of five areas where primitive camping is allowed on the PCRT—but you must get a permit from PA's Department of Conservation of Natural Resources (DCNR), which oversees the trail. Of these five—including Hoffman, Tomb Flats, Black Walnut Bottom and Bonnell Flats—this is by far the most isolated; it is best reached by bike or hike, as even four-wheel-drive vehicles may have trouble on the steep and treacherous access road.
Tiadaghton likewise features one of 15 "comfort stations" appearing every few miles along the trail. With flushless toilets that are a step or two above port-a-potties, these stations are spacious, ventilated, well maintained and faced with stone to match the terrain.
South of Tiadaghton the trail remains remote, with slope on one side and creek on the other. Perhaps its most notable aspect is the likelihood of seeing a timber rattlesnake dozing in the sun at the foot of the cliff; my wife and I once photographed a tangle of five beside their den—though one was a garter taking advantage of its venomous cousins for camouflage. I'm sure deadly vipers are no selling point for some readers, but if you leave these retiring creatures alone, they will gladly reciprocate.
Next up is Blackwell in the town of Morris, where both sides of the trail's road-crossing offer a noticeable grade—necessitated by the fact that the train-tracks formerly spanned this road on an overhead bridge.
Here the canyon becomes less pronounced, while civilization reappears in the form of several historic buildings and the disarmingly tiny Miller's Store. This busy establishment offers drinks, supplies, fresh-cooked eats from a small daily menu and an impressive array of used books; they also rent bikes, some lodging and colorful floating tubes for the creek.
Besides Miller's and Pag-Omar, other trailside stores include three further south: a general store at Cedar Run, Wolfe's at Slate Run and McConnell's in Waterville. All five offer sandwiches and other light fare—plus ice cream.
Blackwell to Slate Run, 10 miles
The small lot in Blackwell is intended for boaters and anglers, while generous parking for hikers and bikers is two miles south at Rattlesnake Rock. As Linda Stager notes in her excellent PCRT guidebook, the section from Blackwell to Rattlesnake is, at nearly two miles, the longest straightaway on the trail. This begins at an imposing trestle across the creek (somewhat frustrating, as you cannot see over the sides) and continues through a handsome rock cut with cool stone walls on both sides.
Shortly thereafter comes Rattlesnake Rock—a massive outcrop into the water, reached by a path through woods near the lot. Named when the region was literally swarming with snakes, the outcrop is now thankfully viper-free and serves instead as a popular swimming hole, generally bedecked with youngsters diving off the rock.
The trail then winds on toward Cedar Run, creeping along beneath the perilously engineered Route 414, which clings to the cliff high overhead—and then crossing an impressive three-span truss bridge with open sides for generous views of the water.
Situated almost exactly at the PCRT's halfway point, Cedar Run is a tiny but charming village with a general store, a small hotel and restaurant (the Cedar Run Inn)—plus a popular private campground known as Pettecoat Junction.
South of Cedar Run, keep an eye out for the road-crossing at mile 34; a few hundred feet to your right on 414 stands a handsome lattice-truss bridge originally built in 1890. It's a glowing steel gem, well worth a short side-trek for photos.
Slate Run to Waterville, 15 miles
For bikers needing a rest, Slate Run makes a perfect overnight break. Not only does it have a general store, but also, its Hotel Manor offers cozy rooms, plus a restaurant overlooking the creek.
Other trailside lodging is available at Miller's and the Cedar Run Inn, along with the later Waterville Tavern, plus plenty of hotels in both towns where the trail begins and ends. And there are numerous cabins and bed & breakfasts throughout the area; my wife and I just love Bear Lodge near Wellsboro.
As it happens, Pine Creek's most famous fishing area starts here, running south for three miles below Slate Run. Nicknamed "The Stretch," it is, in the words of fishing guide and photographer William Kosmer, "a catch-and-release section of water that is supplemented with large brown trout stocked by Slate Run Tackle Shop's Brown Trout Club.
"While other parts of the stream are open to harvest (consult your fishing regulations for specifics), most anglers in the area release their catch, which allows for year-round fishing."
Kosmer adds that trout-fishing is best in spring and early summer; that smallmouth bass and the occasional walleye can likewise be caught; and that several Pine Creek tributaries also offer good fish, especially when the mainstream gets too warm.
Heading on to Waterville, keep an eye out for Tomb Flats, with another good swimming hole. Just past Tomb, there's a tiny, tough-to-find pioneer cemetery with tilting tombstones hidden in the weeds, some dating back to the 1850s. Look for a small footpath on the right curving off toward two large trees.
The rest of this long stretch alternates between heavy forests and sunny segments where a two-lane highway slices between trail and creek. Watch for Wolf Run (marked with a sign), where the Golden Eagle Trail sets off—and where an abandoned stone-arch bridge stands next to the bike-path's tiny trestle. It's worth noting here that many of these "runs" passing under the trail are dry in summer.
Waterville to Jersey Shore, 12 miles
The small but thriving Waterville Tavern is the third of only four restaurants accessible from the PCRT; our fourth will be the Venture Inn, nine miles farther south. All have widely varying hours, so make sure to check before counting on meals. My wife and I also love Santino's Pine Creek Inn along Route 44 below Waterville, though it is not actually on the trail.
The coolest thing about this segment is three magnificent truss bridges in the space of eight miles, all offering majestic views of the waterway.
Shortly after the third of these spans, Pine Creek pulls away to the west and is generally not visible from the bike-path. As you near trail's end in Jersey Shore (of which, more soon), watch for sheer rock walls on your left, with one eye-catching face where the leveled striations have been pushed up so far they run perpendicular to the ground.
Folks not from Central PA are often surprised to hear of Jersey Shore, which should logically be located four hours east; but in fact, the bustling town was named after a clan that settled here from that Atlantic state.
Past the rock walls, look to your right for a small stretch of original train-track lying in the weeds. As we near the end, these ties and rails call forth gratitude to the long-defunct Jersey Shore, Pine Creek and Buffalo Railroad, the first train line through this area. Opened in 1883, it carried lumber down from the 145 sawmills with which this valley was once packed. Eventually the line was taken over by the mighty New York Central and then Conrail, which made its last run here in 1989.
A mile from Jersey Shore, the trail crosses four-lane Route 220 on a screened-over bridge, thereafter making its only extended climb; then comes the final parking lot, where a dignified old NYC caboose marks the end of the train—wups, I mean trail.
Maps and Legends
Newcomers should start with a map—either from Purple Lizard, or the free ones produced by DCNR. These latter are available at some stores along the trail—or downloadable online (you can Google "elibrary DCNR pine creek map" to learn more).
Those seeking more info cannot do better than Linda Stager's authoritative Pine Creek Rail-Trail Guidebook (2015). For history of the valley and its people, grab David Ira Kagan's wonderfully informative Pine Creek Villages (2009), part of Arcadia's wide-ranging, sepia-toned series called Images of America.
Happy trails.
About the Author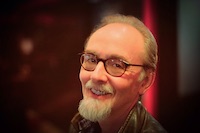 Joseph W. Smith III is a teacher, writer and speaker in Central Pennsylvania. With degrees from Syracuse and NYU, Joe taught high school English for 30 years before retiring to focus on writing. He has compiled seven books, including studies of Hitchcock, the Bible, church life and under-the-radar movies; he also writes for several periodicals and websites. Joe is a church officer, community band member, beer snob, Buffalo Bills fan, book-group leader and lifelong reader who listens to music whenever not sleeping. Contact him directly at robbwhitefan@gmail.com.
All images courtesy of the author.
Frayed Passport is a participant in the Amazon Associates Program, an affiliate advertising program designed to provide a means for sites to earn advertising fees by advertising and linking to Amazon.com.