By: Sarah Stone
I am currently living a full-time digital nomad lifestyle. I don't have an apartment, a car, or debt, and all of my work is accomplished online. Right now, I'm in Montreal writing from an Airbnb while comparing awesome expat destinations—it's a jump that I have loved every minute of. Leading up to this, I've traveled as often and as far as possible, from weekend trips to monthlong ones, and from urban adventure in China to rainforest excursions in Costa Rica. Along the way, I've picked up a few travel hacks that have made for worry-free travel—and here I present them to you!
1: Figure Out Your Mobile Data Plan and Budget
Not understanding and arranging your mobile plan in advance is something that not only can inconvenience you on the road, but also can massively eat into your budget. Roaming charges may add up incredibly quickly—we're talking hundreds of dollars depending on how much data your phone uses—and unfortunately, many of the major carriers' international travel plans are a bit pricy.
As a budget traveler, I've usually stuck with keeping my phone in airplane mode and relying entirely on wifi—or being totally off the grid—on my travels. I've saved screenshots of maps and good-to-know information to get by without a connection, but of course there are better options.
Recently, I switched over to Google Fi, which is an absolute life saver. Roaming charges in the countries I'm visiting in the coming months are the same as my data plan in the US ($10/gb), calls are $.20 per minute, and it connects to wifi wherever there's a trusted source. Plus I get credit for whatever data I don't use—definitely helpful when sticking to a budget! In general, my monthly phone bill is about $30, and I've gone several months where I've used zero data (and therefore paid zero dollars).
Bonus tip: make sure you turn off background data for some of your commonly-used apps. Photo syncing, incoming email, and other services can burn through your plan quickly!
2: Download Apps for Airlines, Hotels, and More
I rely on a bunch of apps before and during my trips to help with worry-free travel—from planning, to tracking flights, to finding restaurants and wifi, these have made my life so much easier. A few of my favorites:
3: Pack Smart
Everyone has their own tips for how best to pack for your trip, so I'll just fly through my favorites for worry-free travel:
Wear your heavier clothes or layers on the plane: This saves room in your luggage and keeps you warm if you're a wimp like me when it gets below 75 degrees.
Pack swappable outfits and comfortable layers: Being able to mix and match your outfits can make a huge difference in how much bulk that you carry with you. And be sure that you pack comfortable layers from the bottom up! A few ideas:

For the base layer, I absolutely adore the VS no-show line and ankle socks
For heavier travel days and any time I don't need to dress up, I love Nike's Dri-FIT clothing line—super comfortable, lightweight, and quick to wash!
For times I need to get pretty, I'll bring a simple black dress, a pair of heels (also good to pair with nice jeans), and a blazer or cardigan to wear over it—bonus points if I can pick up some local jewelry to pair with it

Use space saver bags: Super useful for trips like the one I'm on right now—these let me bring enough clothing for a conference, workouts, bumming around, and a transition into fall weather all in one carry-on.
Keep travel-only items packed between trips: There's no way you'll need to use your TSA-compliant zip bag, contact solution, or shampoo outside of travel. Keep those in your suitcase between trips so you don't have to go searching for them next time you're planning an adventure!
Buy toiletries wherever you're going and leave yours at home: This can be especially helpful if you're traveling for a couple weeks or longer and you need to save room in your suitcase for clothes and gear.
Don't pack valuables in your checked bag: This includes jewelry, camera gear, important documents, or anything else that would be more than just a slight inconvenience if it went missing. And it does happen—my checked bag had a three-day adventure through the airports of New England before it finally arrived to Canada last month!
4: Set Travel Alerts on Bank Accounts and Credit Cards
One of my friends had her only debit card frozen on her first trip to Costa Rica because she hadn't set a travel alert—not a good situation to be in when you don't have much cash on you and can't get to a phone. Don't get stuck! Set travel alerts for all of your accounts, including the ones you might not plan to use while abroad.
Bonus tip: make a note of how long your travel alerts last. If your bank only allows you to set 30-day alerts online but you're traveling longer than that, call them to extend it.
5: Tip Appropriately
Learn tipping etiquette for any location you're visiting before you get there!
This is so important to get used to for worry-free travel, especially for my American friends who tip 20% at restaurants. Rounding up and leaving what we'd see as an absolute insult in change on the table is incredibly uncomfortable. So it's important to get used to the "why" of tipping internationally in addition to the "how."
And for the "how," look up tipping customs beyond restaurants—for example, how much is appropriate for a taxi? A tour guide? Knowing all of that in advance will save some awkwardness later.
6: Go for a Wander
I'm a solo traveler who loves exploring urban areas, so this might be kind of niche: once you arrive to your destination, go out for a wander! I also don't tend to use a map for that first wander unless I get lost and need to reorient myself or to make a note of a scraggly area to avoid later.
It's amazing how much you can see and how easily and quickly you can get used to new surroundings if you just walk around a bit and go where the roads lead you. It's a great way to figure out actual walking distances between different locations, decide whether and what kind of public transport you might need to use during your stay, and you'll likely come across a lot of the museums, restaurants, and other places you're meaning to visit later. Knowing your way around, even from an hour of meandering, will make you feel so much more comfortable and cut down on a lot of the unknowns and anxiety that come with having your GPS guide you.
About the Author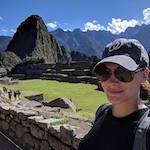 As the editor-in-chief of Frayed Passport, my goal is to help you build a lifestyle that lets you travel the world whenever you want and however long you want, and not worry about where your next paycheck will come from. I've been to 20+ countries and five continents, lived for years as a full-time digital nomad, and have worked completely remotely since 2015. If you would like to share your story with our community, or partner with Frayed Passport, get in touch with me at sarah@frayedpassport.com!
Frayed Passport is a participant in the Amazon Associates Program, an affiliate advertising program designed to provide a means for sites to earn advertising fees by advertising and linking to Amazon.com.