By: Sarah Stone
Need some inspiration for the bucket list? Add these five excellent Asian night markets—you definitely won't be disappointed.
1: Shilin Night Market, Taipei, Taiwan
The largest and most popular market of its kind in Taiwan, the Shilin Night Market is divided into two sections with more than 500 stalls for you to visit.
2: Chiang Mai Night Bazaar, Thailand
One of the city's most famous attractions, the Chiang Mai Night Bazaar is open every night from dusk until midnight.
3: Dongdaemun Market, Seoul, South Korea
This market is considered a special tourism zone within the city, and is divided into five zones over 10 blocks, with more than 30,000 shops.
4: Donghuamen Night Market, Beijing, China
This market is probably best known for its unusual foods—such as fried crickets and centipedes, or lizards on a stick!
5: Hanoi Night Market, Vietnam
Relatively new compared to other popular night markets, this one in Hanoi operates only on weekends, but has quickly become a popular tourist destination.
Digital nomads have long understood the benefits of having a flexible workplace. Our productivity skyrockets within the right setting, whether that be at a beachside cafe or in a home office. And a lot of people who've had to work from home during the pandemic have seen the upsides as well—and they're not happy about returning to the office. So how do you convince your boss to work remotely on a more permanent basis? We'll show you in this guide.
About the Author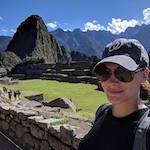 As the editor-in-chief of Frayed Passport, my goal is to help you build a lifestyle that lets you travel the world whenever you want and however long you want, and not worry about where your next paycheck will come from. I've been to 20+ countries and five continents, lived for years as a full-time digital nomad, and have worked completely remotely since 2015. If you would like to share your story with our community, or partner with Frayed Passport, get in touch with me at sarah@frayedpassport.com!
Featured image via Unsplash.
Frayed Passport is a participant in the Amazon Associates Program, an affiliate advertising program designed to provide a means for sites to earn advertising fees by advertising and linking to Amazon.com.