By: Sarah Stone
Delightfully goofy on land but elegant in the water, it's easy to see why tourists flock to South Africa each year to watch penguins. There are many species of penguin around the world—and you don't need to travel all the way to Antarctica to see them in the wild! South Africa is home to the African or Cape penguin (commonly called the jackass penguin because of its donkey-like call), and there are several different places to see these adorable birds. 
Let's have a look at five wonderful destinations where you can travel and see the only penguins that are native to Africa!
Boulders Beach
Boulders Beach is the main beach of Simon Town, which is home a friendly penguin breeding colony. Penguins rule the beach, but in some places, they wander from their colony to parts of the beach opened for people. They are used to people but please do not try to pet them or pick them up—they may bite! But you can still see them on land and in the water: penguins have been known to swim alongside people in the sea.
Many tourists stay in Cape Town and rent a car to spend the day with the penguins at Boulders Beach. There are viewing platforms on the beach, but they can be crowded. For a small fee, you can get to watch at a better part of the beach. Be sure to pack a camera for a once-in-a-lifetime shot!
Betty's Bay
The small coastal town of Betty's Bay has been featured in nature documentaries showcasing the flocks of penguins that waddle off Main Beach and set up nests under porches, in garages, and under bushes belonging to residents. Efforts in recent years have helped to keep most of the penguins on Main Beach—birdwatching in the meantime has become a big tourist attraction. While you're there, check out the Harold Point Botanical Garden to learn about more than just the penguins!
The jewel in the crown in Betty's Bay for penguin lovers is the Stoney Point Penguin Colony. In fact, some tourists even prefer Stoney Point to the ever-popular Boulder's Beach. Not only is Stoney Point home to hundreds of penguins, but you'll also be able to see many lizards and a peculiarly cute mammal called a dassie, or rock hyrax.
Robben Island
More famous for being the former prison of Nelson Mandela than for wildlife viewing, Robben Island has since become a sanctuary for an estimated 4,000 penguins—the largest colony in South Africa. It's also home to 132 other species of water birds, including the endangered bank cormorant. 
The beautiful island has been designated an UNESCO World Heritage Site. In addition to checking out the wildlife, you may want to head over to the Robben Island Museum during your stay. A ferry runs regularly from Cape Town to the island, and buses are available on the island to help reduce damage from cars to the land and the wildlife.
Digital nomads have long understood the benefits of having a flexible workplace. Our productivity skyrockets within the right setting, whether that be at a beachside cafe or in a home office. And a lot of people who've had to work from home during the pandemic have seen the upsides as well—and they're not happy about returning to the office. So how do you convince your boss to work remotely on a more permanent basis? We'll show you in this guide.
Dassen Island
Dassen Island is a bird lover's paradise. It's a small island with hardly any people and thousands of birds, including the beloved African penguins. You can also find rabbits and a species of tortoise that moves surprisingly quickly! At one time, over a million penguins called this island home, but they were decimated by cats brought from ships, and from egg collectors.
Fortunately, penguin numbers have risen in recent years, while cat and people numbers have dropped. One accessible road still remains on the island, as well as a stately lighthouse and a museum. Tourists must have permission to be on the island before disembarking the ferry, so make sure you plan your trip ahead.
Dyer Island
Dyer Island isn't an island so much as a rocky bump jutting out from the sea off the coast of Gansbaai. The only way to see the birds is from a tour boat. Not only do thousands of penguins live there, but it's also home to about 50,000 Cape fur seals.
The big draw to Dyer Island isn't the penguins but the great white sharks, which love to munch on the fur seals. Although the world population of great white sharks has decreased in recent decades, some still swim in the waters off of Dyer Island, in an area called Shark Alley. Many tourists go in the water in protective shark cages to take once-in-a-lifetime photos of the endangered sharks.
About the Author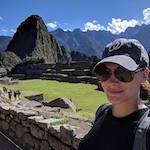 As the editor-in-chief of Frayed Passport, my goal is to help you build a lifestyle that lets you travel the world whenever you want and however long you want, and not worry about where your next paycheck will come from. I've been to 20+ countries and five continents, lived for years as a full-time digital nomad, and have worked completely remotely since 2015. If you would like to share your story with our community, or partner with Frayed Passport, get in touch with me at sarah@frayedpassport.com!
Frayed Passport is a participant in the Amazon Associates Program, an affiliate advertising program designed to provide a means for sites to earn advertising fees by advertising and linking to Amazon.com.