By: Sarah Stone
My friend Bobby posted a photo of a colorful toucan on his Facebook page. "It's time to market more of this as opposed to what everyone else reads in the news," the caption reads. The photo was snapped at the D&D Brewery and Lodge, where I stayed for the final night of an eight-day volunteer trip throughout Honduras.
In spring 2011, Bobby invited me to travel for one week with Volunteer Honduras, an organization he'd recently founded. I jumped at the chance—I love Central America and hadn't yet planned a trip abroad that year.
I signed up for a slot in early August adding up to four days' volunteer work and four days' travel along the north coast of Honduras. As far as guided experiences went, this was the least expensive one I'd seen yet—my program fee was about $700 plus a $400 plane ticket.
The Volunteer Project
Two other volunteers signed up for the same trip. Joyce, Pierre, and I spent four days providing assistance to a local children's home, Hogar Miqueas. Jacob and Melody, the home's directors, care for children who have been orphaned or whose parents are unable to provide for them. They also benefit from the assistance of tias, tutors, social workers, and long-term volunteers. The Hogar Miqueas staff care for each child as an individual, ensuring the best education, healthcare, and support is provided for all.
Our project, however, did not focus on childcare—we provided support in other ways where current staff and assistants don't have the capacity or time. For short-term volunteers like us, this usually includes light construction or other short-term projects.
Joyce, Pierre, and I painted ceiling tiles in a boys' dorm. The tiles used would eventually break down, releasing potentially harmful dust into the air—to prevent this, we sealed the tiles with paint. It was wonderful to see our progress and to know the reason for our project and the results that would come of it. This was the last task that needed to be done before the boys could move in to the dorm—and while it was a small project, it absolutely made a difference for these boys who needed a new place to live.
Throughout each day, Bobby stayed with us and talked about Honduran history, politics, and society. Jacob and Melody also dropped in to help. It was a small gesture from the team, but it meant a great deal to the volunteers; rather than giving us paintbrushes and walking away, they worked alongside us.
While my volunteer program fee covered all of my in-country transportation, housing, meals, and supplies, there was enough leftover for other needs. The children's home van had a flat tire—and before the volunteers arrived, there was no money to fix it. This van was used primarily to take the children to church, school, and field trips, and while it was waiting to be fixed, the staff had to pay for cabs or individually shuttle the kids around in smaller groups. The leftover funds from my personal project fee were used to fix the flat tire.
Hiking, Snorkeling, and More in Honduras
For the second half of the trip, we traveled along the north coast of Honduras. We took a jungle hike through the La Ceiba area—I adore hiking, so this was hands-down my favorite part of the trip. It was great exercise, the scenery was beautiful, the weather was perfect, and we went swimming under a waterfall.
The next day, we took a boat to Cayos Cochinos. We went snorkeling for a few hours—we saw all kinds of fish, and our guide pointed out an octopus. Afterwards, we visited a Garifuna fishing village, had an amazing lunch, and headed back for the day.
The last day was spent at the D&D Brewery and Lodge; Bobby actually owns the brewery and its accompanying cabins, having taken it over earlier in summer 2011 from its former owner. It was a great way to end the trip; we met other travelers, had local beer and delicious food, and talked well into the night.
I can't convey to you the sounds of frogs chirping as you sleep in a tree house, or the taste of a mango straight from its branch, or the shock of cold that hits you as you jump into a waterfall pool—you'll need to experience these things for yourself. But I can tell you that Honduras does indeed have an image problem. It's the most beautiful place I have ever visited, and while I don't think my impact on the community was as large as their impact on me, the people I met and the places I saw inspired me to quit my job and pursue travel and writing full-time. Let's see where it goes!
About the Author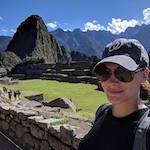 As the editor-in-chief of Frayed Passport, my goal is to help you build a lifestyle that lets you travel the world whenever you want and however long you want, and not worry about where your next paycheck will come from. I've been to 20+ countries and five continents, lived for years as a full-time digital nomad, and have worked completely remotely since 2015. If you would like to share your story with our community, or partner with Frayed Passport, get in touch with me at sarah@frayedpassport.com!
Featured image via Pixabay.
Frayed Passport is a participant in the Amazon Associates Program, an affiliate advertising program designed to provide a means for sites to earn advertising fees by advertising and linking to Amazon.com.