By: Sarah Stone
In the first post in this series—Why Following Your Passion May Not be the Best Career Advice—I talked about your very first steps toward building a location-independent career. One of simplest ways you can fund your travels with a remote career is through online work (writing, teaching, design, coaching, IT, and lots more), so that's what I'll focus on.
If you're ready to start building a small business (whether it's a one-woman show or a full team) that will allow you to travel the world and work from wherever you are, then you might imagine that the logical first step is to write a business plan. If you've looked at templates already, I won't blame you if you started panicking—especially if you're not sure what a balance sheet is, or why you need one for a company you haven't started yet.
Not to worry, though! If you're bootstrapping it and pretty much know what you want to do, you don't have to write a thesis.
Why Do You Need a Business Plan?
There are a couple main reasons to have a business plan. First, it's a good roadmap. It'll help you get your head around where you are right now, where you want to be later, and how you plan to get there.
And second, it can help you secure funding, say through investors or with a small business loan. If you're not going for a loan, investors, or partners, then you can forget about a lot of the pressure of building a full business plan—or at least one spanning dozens of pages.
Can You Bootstrap Your Business?
You don't need a ton of cash to build a small, service-oriented business—and that means you may not need funders, partners, or a loan. Here's how much it cost to run my consulting company for its first year, which let me scale from zero dollars in income to more than $30,000 per month within nine months:
Business name and LLC registration: $195
Website hosting: $14 / month
Google apps for business: $24 / month
Quickbooks account: $21 / month
Subcontractors: $15—$20 / hour (for assistance on projects if I'm swamped)
And that's it for operating expenses. I've done absolutely no paid advertising, and instead am relying mainly on SEO, organic reach on social media, and referrals from friends, colleagues, and clients.
If you're not familiar with website design, check out Squarespace or another tool that will help you quickly and easily set up a professional site that's within your budget. To get a handle on marketing, check out Moz, which has EXCELLENT advice for beginners in social media, SEO, and lots more.
And if you're looking for ways to build your portfolio or get testimonials, ask a couple of friends whether you can help with a very small project in exchange for a testimonial or referral (think something basic—like designing a few social media post templates, and not a full social media marketing strategy). As you build those out, start reaching out to your LinkedIn network or other circles, and before you know it, you'll be on your way. The very worst thing that can come from asking is a "no." Shrug it off and move along to the next "yes."
What Should Go Into a Bootstrapped Business Plan?
Really all you need is one or two pages. In a full business plan, that would be the executive summary, which would generally include:
Your mission statement
A description of your company and services
A description of the need you're trying to meet for your target audience, and why your company can meet that need
Financial information (where you are and where you need to be)
Future plans for your business
If you want to do a competitor analysis or market segment analysis, you can—at the very least, you'll get a handle on what's working for other people, and how you can try to tap into that market as well (or find a niche for yourself).
Your business plan is your roadmap. If no one else needs to see it, there's no reason to make a 50-page plan, unless that's what you really want to do. Use your roadmap to keep you on target, and expand on it later if you need to, but for now: don't obsess over it.
Go focus your energy on building your company.
About the Author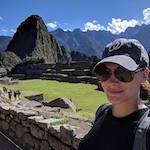 As the editor-in-chief of Frayed Passport, my goal is to help you build a lifestyle that lets you travel the world whenever you want and however long you want, and not worry about where your next paycheck will come from. I've been to 20+ countries and five continents, lived for years as a full-time digital nomad, and have worked completely remotely since 2015. If you would like to share your story with our community, or partner with Frayed Passport, get in touch with me at sarah@frayedpassport.com!
Featured image via Unsplash.
Frayed Passport is a participant in the Amazon Associates Program, an affiliate advertising program designed to provide a means for sites to earn advertising fees by advertising and linking to Amazon.com.