By: Sarah Stone
Traveling through Europe can be a great experience—but it can also be expensive. If you're a digital nomad and exploring the world while you work, there can be some great deals to be found in coworking and coliving spaces! Not only can combining working and living spaces help you budget easier, but you'll also be immersed in a wonderful community of entrepreneurs, freelancers, and remote employees from all over the globe.
Coworking and coliving are becoming incredibly popular worldwide—you can be innovative and productive with your projects, and enjoy the culture and beauty of another country. Recently, we've shared our recommendations for coworking and coliving spaces in Latin America and in Southeast Asia—and here are a few of our top picks for coworking spaces in Europe!
Living and working on a lush Greek island is a dream for many of us. Lesvos is the third-largest Greek island, and one of the country's lesser-known islands. Uncluttered by hordes of tourists and tacky tourist traps, enjoy hiking through petrified forests, natural hot springs and health spas. The coworking and coliving space here is a wonderful digital nomad community based on Birds Bay with gorgeous accommodation and all of the best aspects of island life.
Rich in history, this French commune is one of the wealthiest suburbs just outside of Paris. There is plenty to do and see, enjoy a touch of modern with a deep taste of culture and refinement. At the Regus Coworking space, you can have your own office or share a coworking space with easy transport to the city center. Build a base for your business or spend some time here while just passing through the City of Lights!
Located in the spectacular Italian countryside, you will enjoy the company of inspired creatives from all over the world at the Temporary Work coworking space. With beautiful workspaces, you'll be able to take in the breathtaking sights of the Sila National Park while you have lunch outside in the sun. If you're not inspired by the crystal blue Ionian and Tyrrhenian Seas, perhaps an old cathedral is more your style. Rich in history, you will be continuously fascinated by this wonderful region.
Hotdesks and more private workspaces are available at Strijp CS, an exciting and urban coworking space based in Eindhoven, Netherlands. Network with other digital nomads and locals, from freelancers to business owners alike—and enjoy parties and other events around the bar! If you'd like to explore the area, rent a bike and make like the locals—pedal your way to see the tulips and other sights outside of the city.
Get your work-life balance sorted out when you join the Sun and Co. coworking and coliving community in Spain. Enjoy learning from others and gain inspiration from workshops and skillshares. During your free time, enjoy tapas, go for sunset hikes along the coast of the Mediterranean, sit around beautiful bonfires, and partake in great conversation with fellow digital nomads.
Here you will find a perfect balance of collaboration, productivity, and history—at Mindspace Hamburg, you'll be close to St. Michel's church and many other landmarks in a 100-year old building filled with art and books. There is plenty to do while in Hamburg, including street festivals and concerts, plus plenty of parks and history to discover.
Digital nomads have long understood the benefits of having a flexible workplace. Our productivity skyrockets within the right setting, whether that be at a beachside cafe or in a home office. And a lot of people who've had to work from home during the pandemic have seen the upsides as well—and they're not happy about returning to the office. So how do you convince your boss to work remotely on a more permanent basis? We'll show you in this guide.
Coliving and Coworking Right
Coliving and coworking spaces are so much more than just a place to work and sleep. By becoming part of these communities, you'll get to learn about other cultures and enjoy an amazing destination by becoming part of the neighborhood. To immerse yourself not only in fascinating work, but also in new cities, countries, and cultures is a tremendous growing experience. Every day will offer a learning moment, and the connections you make will last your entire life.
About the Author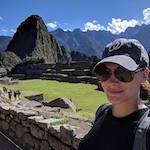 As the editor-in-chief of Frayed Passport, my goal is to help you build a lifestyle that lets you travel the world whenever you want and however long you want, and not worry about where your next paycheck will come from. I've been to 20+ countries and five continents, lived for years as a full-time digital nomad, and have worked completely remotely since 2015. If you would like to share your story with our community, or partner with Frayed Passport, get in touch with me at sarah@frayedpassport.com!
Featured image via Unsplash.
Frayed Passport is a participant in the Amazon Associates Program, an affiliate advertising program designed to provide a means for sites to earn advertising fees by advertising and linking to Amazon.com.