By: Sarah Stone
The digital nomad lifestyle has exploded since the early part of this decade. The ability to travel and work from anywhere in the world is an alluring proposition, and lots of people have decided to trade in the cubicles and fluorescent bulbs for beaches soaked in sunlight. As a result of this explosion of remote work, coliving and coworking spaces have popped up all over the world. Here are six of the best coworking spaces in Latin America!
Outsite: San Juan, Puerto Rico
Colorful and full of rich history, San Juan is the biggest city in Puerto Rico. And there are so many things to do here if you're into outdoor activities! Nearby are forests for hiking, waterfalls for exploring, national parks for impromptu picnics, and plenty of surfing spots.
The Outsite coworking and coliving space is a beautiful mansion situated in the tropics not far from a beach. The internet is good, clocking in at 30 Mbps, and the building has a communal printer, along with smart televisions and copious amounts of workspace. There are single bedrooms as well as shared rooms, and amenities include laundry facilities and a terrace with a barbecue.
Unsettled: Buenos Aires, Argentina
Unsettled is a coworking and coliving program that hosts groups of up to 30 participants, giving them the opportunity to reside "unsettled" for 30 days. The program is designed to help people get outside their comfort zones and encourage them to venture into the unknown. In addition to their Buenos Aires location, Unsettled has locations across the world.
Unsettled in Buenos Aires offers cozy studios and private rooms in a coliving house. They provide co-working spaces at AreaTrees, and the space has blazing fast internet for working and relaxing.
The city of Buenos Aires has a lot to do, like yoga, Crossfit, and biking. If you're into dance, there are also some really great tango training studios! The city has beautiful and rich architecture for you to explore, and the San Telmo Sunday market is an unforgettable experience that's buzzing with excitement and energy every week.
Selina: Miraflores, Lima, Peru
Selina offers everything you need to make the most of your location-independent lifestyle. Located in the Miraflores hotel, you'll have access to either a shared dorm or a private room. You'll also have free wifi, an onsite restaurant and bar, and you'll have access to parties and social events hosted by Selena so you can mingle with your fellow digital nomads.
The hotel is close to the city center where you can experience the rich culture of Peru. Peruvian cuisine, colonial architecture, and nearby beaches round out this beautiful city that thousands of people travel to experience every year.
The Nest Coworking space in Playa del Carmen is situated in the center of the city and only a short, five-minute walk from white-sand beaches. The coworking and coliving spaces are eco-friendly, so if you're environmentally minded, give this one a close look! You'll have a spacious bedroom, your own kitchen, and hammocks to relax in while working away on your laptop.
The folks at Nest will get you set up with your own SIM card and data plan while you're staying here, and you'll also have access to a photocopier, scanner, wifi, and a locker to store your belongings in. There are a variety of places to sit and work at Nest, giving you lots of options to choose from when deciding what helps you focus on your projects.
Outsite: Bejuco, Costa Rica
Another one of Outsite's fine establishments, located in Bejuco, Costa Rica, offers digital nomads the ability to experience some of the best beaches in the world. This hub was chosen to give happy and productive people a place to work in paradise. This location has a shared pool surrounded by bungalows, each one with its own private kitchen. You'll also have access to wifi, a printer, laundry facilities, and a weekly dinner for socializing.
In addition to Costa Rica's beautiful beaches, you'll also have access to plenty of other outdoor activities such as running, rock climbing, kayaking, and surfing.
Hacker Paradise has a coliving and coworking space in the heart of Buenos Aires. It's perfectly located, being minutes away from restaurants, shops, parks, and gyms. You'll have your very own bedroom with all the amenities, and the coworking spaces are a 15-minute walk from your room.
Buenos Aires is a culture-rich city and the metropolis of Argentina. Freelancers looking for inspiration can go gaze at intricate, beautiful street art or go and see a show at one of the best opera houses in the world.
Want to retire early and travel the world? Then embrace the art of geoarbitrage! In this guide, we'll teach you all you need to know about geographic arbitrage. By the time you finish reading, you'll be prepared to live in your dream destination while working and saving money.
About the Author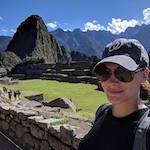 As the editor-in-chief of Frayed Passport, my goal is to help you build a lifestyle that lets you travel the world whenever you want and however long you want, and not worry about where your next paycheck will come from. I've been to 20+ countries and five continents, lived for years as a full-time digital nomad, and have worked completely remotely since 2015. If you would like to share your story with our community, or partner with Frayed Passport, get in touch with me at sarah@frayedpassport.com!
Featured image via Unsplash.
Frayed Passport is a participant in the Amazon Associates Program, an affiliate advertising program designed to provide a means for sites to earn advertising fees by advertising and linking to Amazon.com.