By: Sarah Stone
I'm super excited to finally be focusing on Frayed Passport full-time—this platform is near and dear to my heart as a longtime wanderer and pre-COVID digital nomad. And very soon, we're launching some very cool new features that I can't wait to tell you about!
Leading up to that, I'm sharing excerpts from an unpublished interview I did about my personal digital nomad story and longtime solo traveler journey. I've decided not to update this completely to incorporate thoughts after two years of COVID—to be honest, if I did, the interview would be sad, nostalgic, and a bit cynical. I've been extremely lucky for my remote work and income to continue uninterrupted, but like many people, the pandemic has taken a toll on my mental health.
But there are good people all over the world, and borders have been opening up again, and I cannot wait to hit the road and explore more of our beautiful planet. And as someone who's naturally very introverted, it can be a bit of a balance to put myself out there and be around people and make new friends, while also knowing when to take the time I need to reset and recharge.
Let's get into it!
Tell me a little about your background and how you got started in the nomad world.
I've always wanted to be a world traveler and to own a business. I got started in the nomad world at age 19, during a college internship at Peace Corps headquarters in Washington, DC. We received emails asking about volunteer abroad opportunities for people who weren't eligible to join, and I was curious about this as well. As a college student, I wasn't able to apply yet, but I still loved the idea of living and volunteering in another country.
I researched volunteer trips around the world, and found there wasn't any way to compare the opportunities I found—for example, why would one trip cost thousands of dollars while another cost almost nothing, when they seemed to offer the same type of experience? I mapped every volunteer trip I could find into a massive spreadsheet, sorting trips by destination, duration, cost, type of project, eligibility requirements, and other criteria. My mum suggested I post the sheet online for others to access, so I spent the summer after my freshman year learning how to build a website. I added hundreds of trips to it, and blogged about my questions, thoughts, and research, and shared dozens of stories from and interviews with travelers and trip providers worldwide.
The volunteer abroad directory ended up being among the first of its kind, and by the middle of my sophomore year, I was receiving dozens of emails a day from trip providers and from travelers. Over the next few years, I focused on turning the website into a platform where organizations could create profile pages, add trips, and recruit volunteers and interns—I skipped most of my classes and graduated with an abysmal GPA, but I was able to turn the directory into a business that let me travel the world and work from my laptop!
In 2012 I sold the company and used that money to launch a small communications consulting business. Since then, I've had the opportunity to travel to dozens of countries, live in several, and earn six figures per year doing work I adore, completely remotely. I even adopted a street dog from Peru!
Do you consider yourself more introverted or extroverted? How has that played into your experience?
I'm quite introverted, which can be a huge barrier to entry for someone who wants to create their own business AND travel the world.
I was wildly unpopular growing up and had a lot of trouble making friends, so I spent a lot of time on my own with independent hobbies and projects. And even as a kid, I would always think, "How can I make money doing this?"—with a goal to become a globetrotting businesswoman, which was the coolest thing I could think of.
I love solo travel because it lets me be an introverted explorer—I get exhausted traveling with other people. But I also love meeting new people at conferences or partner visits, or working from my clients' offices occasionally—it hypes me up, I get tons of new ideas, and it reminds me why I love my work. And during my free time, I can go for wanders and take photos and write about the cool things I see!
But with that said…I'm not one to naturally start a conversation. When I'm not on assignment, I have to remind myself to put away the notebook and to talk to the people around me.
What is the most surprising aspect of the digital nomad life?
The creativity, inspiration, and productivity that comes with a constant change of location. I get antsy, and being able to change the background of where I'm working keeps me from feeling stagnant. I get my best ideas for new projects—or creative solutions to problems—in the most unexpected places, like having a drink at a side street restaurant in Lisbon, or going for a rainforest hike in La Ceiba.
Describe your career plan going into this adventure. How has that changed throughout your time abroad?
I've never had a career plan, and never map anything out for more than six to 18 months at most for fear of focusing too intently on a single path while missing out on others that could take me somewhere better or more interesting.
I do set goals and am meticulous about project planning, so the way to reach those goals is laid out in detail and much easier to achieve than having a nebulous idea of "I want to make more money in six months" or "I want to find new clients this year." And having an extremely detailed, well-researched plan from the beginning also lets me be more flexible, as counterintuitive as that sounds!
A major part of planning is to know where things might go wrong, and to plot out potential fixes or changes. You don't plan to fail, but you should absolutely have a plan should failure begin to present itself—and it can be difficult to describe the nuances of that mindset to others. It's idiotic not to do it though, especially because those plans can be helpful for something else totally unrelated later.
Travel is the same way. Being flexible, patient, open to new opportunities, and more aware of your surroundings makes you a better traveler, just as it makes you a better businessperson.
How do you embrace the FIRE (Financial Independence and Early Retirement) lifestyle while addressing financial risks? One solution: semi-retire and travel the world. Let's look at how to get there in this comprehensive guide!
What is one thing you couldn't live without?
Adventure! I hate the idea of being comfortable and have never been content, but I don't see that as a negative—if I'm not on the lookout for something fun, different, and challenging, what am I doing with my life?
What's your packing style?
The longer I'm going to be traveling, the less I pack—I've gone years country-hopping with just a backpack.
Conversely, if I'm gone for a long weekend, I overpack and bring a small suitcase.
How do you choose a location?
Maybe not how, but why: because it's there! I travel to places I read about as a kid, or that people have mentioned being on their must-see lists, or that I saw a picture of and wanted to visit myself.
If I'm looking for someplace unexpected though, I love to use Nomad List. A few years ago I was looking for a place to live for a little while, and was open to pretty much anything as long as it was in my budget and safe for solo female travelers. I started with those criteria on Nomad List, then narrowed down other elements like air quality, internet speed, and ease of transportation, until I landed on Porto, Portugal. I'd never considered traveling to Portugal, but thought "Why not?" and rented a little house there for three months! It was wonderful—Portugal's at the top of my list whenever I think about where to go next.
How do you choose your apartment/hotel/rental?
I usually go with Airbnb, and look for apartments or houses that have useful reviews from people who've stayed at least for a couple of weeks. I'll also look at the neighborhood, access to public transportation, walking distance to cafes, and other day-to-day considerations.
What are three important lessons you've learned?
Don't try to get from Point A to Point B if it's not working for you or no longer makes sense—especially at the expense of missing other opportunities to go somewhere else.
Be chill about setbacks. If something goes wrong or doesn't meet your expectations, know that there absolutely is a fix. No one's world is going to end over a mistake or a bump in the road.
It takes way more energy to be a jerk than it does to just be nice.
Do you anticipate settling down and "establishing roots" at some point?
Note: When I first did this interview, I didn't anticipate establishing roots of any kind. Since then, COVID became unending, I got married, and we bought a house.
With that said, I still don't feel as though I've established roots—I never feel at home anywhere, and it's difficult to describe why that doesn't have to be a bad thing. My "home" is wherever I'm with him, and I'm lucky enough to have a fiance who is fine with me traveling whenever I want, who meets me when he can on trips that I take, and who's open to traveling full-time once we have enough money saved up.
What are some digital and/or physical "tools" that have helped you succeed?
The biggest one for me is Google Fi. It's so much more flexible and way less expensive than any other phone plan I've ever used. I spend about $30—$40 per month on phone service, including all data charges, no matter where I am in the world. Being able to so easily connect with my team and clients without scurrying to find wifi or eating up the insane costs of using data to send an email is an absolute gamechanger.
I also read a lot! Some books that have been super helpful for me are The 4-Hour Workweek by Tim Ferriss, Zero to One by Peter Thiel, and Delivering Happiness by Tony Hsieh.
What are some financial tips you wish you would have known when you first started?
My dad made sure I have a good foundation in financial literacy before graduating from college, so I'm lucky that I didn't have to learn some things the hard way, like sticking to a budget without overdrawing my accounts, or being late on a credit card payment.
I wish I knew more about the benefits of different credit cards when I first started traveling regularly—for example, knowing which cards waive foreign transaction fees.
I also wish I would have had a better handle on what I did and did not need to pay for when starting my first business, and the ramifications of being lazy—or rather, defaulting to "I don't know what I don't know, so I'll do the easy thing"—and paying for services I didn't need. It can be nerve wracking to get into the registration and accounting process when you're new to it and you don't want to mess it up. It's easy to pay someone else to handle it, but if you take a day to look up at least some basics on how to do it yourself and take advantage of the world of free resources available for entrepreneurs, it's surprisingly easy to set up a basic LLC. It's way less expensive, and you won't get as much junk mail or spam phone calls along the way. I'm still dealing with junk mail, emails, and texts about a basic single-member LLC I founded in 2008 through a very popular legal service.
What about the social aspect of solo travel? How do you find community in a place where you don't know anyone?
I'm very much an introvert, so I get some fulfillment from being around people as a background observer, but not going out and meeting people socially—I love going for walks and people-watching, or working on my laptop in a cafe for a couple of hours and being sort of in my own bubble, but not totally alone.
I try to stay in different destinations for a few weeks at least, so I can have the smallest taste of living like a local. Staying longer makes me feel more confident in having conversations with people, or being a bit of a regular at a place I like.
I'm loneliest when country-hopping for shorter amounts of time—a couple of years ago, I traveled through Panama, Costa Rica, and Peru over several months, hopping back and forth between them, but never stayed in any single location longer than a couple of weeks. By the end, I felt so lonely! I pictured myself as a little mouse traveling from place to place, staying long enough for someone to notice me for a second, but then forget me a moment later. It's not that I want to be remembered, but it's a bummer when you actively feel yourself being forgotten everywhere you go.
If someone was interested in exploring the nomad life, what is the first thing you would tell them to do?
Be very honest with yourself about whether you can financially support this lifestyle and any surprises it might throw at you.
If you have no savings, and your income relies on a single point of failure (for example, if you're a freelancer and have only one client), then you need to either accrue a sizable safety net or find multiple sources of income to keep you on your feet if you run into an unexpected expense—which definitely will happen—or if you lose your job.
It's also a very lonely lifestyle, even if you've got a companion. You have to be very comfortable with a high level of independence—and you absolutely can be introverted while doing it, because independence is completely different from either introversion or extraversion.
And it can get frustrating after a while—dumb things will begin to annoy you because ultimately when we're tired, we want a routine…and living in a new place (or changing places every three to six months) constantly shakes you up, and you have NO IDEA how much you go through the motions at home until you're living in a different country. I don't mean language barriers or major shake-ups like that. I've had friends who've lived in, say, Australia or the UK for months and months, and finally snapped about how their toilets flush—why can't this one thing be "normal?" Why does everything have to be vaguely similar, but different enough to be noticeable? Just be easy!
Traveling solo long-term is tough, and so is taking the entrepreneurial path. Doing both at the same time is insane. But if you get as much of the practical planning and support in order as you can before jumping in, it's so much easier to accomplish, and completely worth it.
About the Author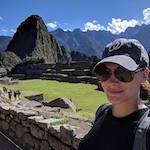 As the editor-in-chief of Frayed Passport, my goal is to help you build a lifestyle that lets you travel the world whenever you want and however long you want, and not worry about where your next paycheck will come from. I've been to 20+ countries and five continents, lived for years as a full-time digital nomad, and have worked completely remotely since 2015. If you would like to share your story with our community, or partner with Frayed Passport, get in touch with me at sarah@frayedpassport.com!
Featured image via Unsplash.
Frayed Passport is a participant in the Amazon Associates Program, an affiliate advertising program designed to provide a means for sites to earn advertising fees by advertising and linking to Amazon.com.