Amtrak's Coast Starlight is a 36-hour train ride between Seattle and Los Angeles. Roughly paralleling the Pacific Coast on both its north and southbound runs, the Starlight covers all types of terrain—from meadows and marshes to mountains, forests and ocean vistas. As a friend and I learned on a recent fall venture, it's a great way to relax, get unplugged and enjoy chef-cooked meals in the nostalgic dining car.
Not to mention making lots of new friends.
One of Amtrak's most popular runs, the Starlight carries nearly 400,000 passengers a year, making 30 stops in such cities as Tacoma, Portland, Sacramento, Oakland and San Francisco. Many riders take only a portion of the route—passengers like Peter, whom we met at dinner in the final hours of our journey. Having rejected a $400 fee when he tried changing his flight out of San Francisco that day, he was sampling long-distance rail for the very first time.
"Amazing," he declared, finishing dessert as a fiery orange sun slid into the Pacific.
Having been aboard for the entire trip, we heartily agreed.
Settling In
Seattle's handsome King Street Station is undergoing a massive refit, so there were few services as we waited in a quiet but excited queue. With a scheduled 9:50 a.m. departure, the seven-car consist—baggage, two sleepers, observation car, diner and a pair of coaches—backed in at 9:15, freshly washed and gleaming. I was already sensing that unlike some other Amtrak routes, the Starlight would be run with almost military precision.
This pleasant suspicion was confirmed when we stepped into our sleeper to an urn of fresh, free coffee, and the train thereafter pulled away at 9:49.
In addition to regular coach accommodations—single seats that are much roomier than planes, but not great at night—long-distance Amtrak offers three types of bedrooms. From these, John and I had chosen the so-called family bedroom; situated on the lower level—which has no through corridor to other cars—this room extends the full width of the train (more than nine feet!); and it has windows on both sides.
Even better, all sleeper accommodations—including the affordable but tiny roomettes, and the costlier deluxe—come with meals included.
The Real Thing
On our first foray into the diner, we were seated for lunch with Finnegan and Rel, grandson and grandfather returning home to Sacramento; after Rel informed us that the boy preferred "Finn," I asked what his own name was short for. "The Real Thing," he told me. And that's as far as I got with that.
We were early for our 1:50 crew-change in Portland; so that 32-minute layover ran to nearly an hour. I was able to step into the station to buy, write, stamp and mail an Oregon postcard to a young friend who's collecting state postmarks. (One had gone out to her from our Washington hotel that morning, and another would follow later from L.A.)
At a fresh-air stop in Salem, John loaned his cell to an older British couple who couldn't get service with their overseas provider. They phoned their grandson at U of Oregon up the line in Eugene—and when we arrived, the lad was there to meet them on the platform. This seven-minute reunion was so palpably joyful that I feared our watchful sleeper attendant, Lorna, would not get the glowing grandparents back onto the train before departure.
South of Salem, the train ascends into the sprawling Cascade Mountains, eventually reaching nearly 5000 feet. It was dusk by then, so we could only just make out the towering peaks and plunging, tree-clad canyons. Perhaps a trip earlier in the year might've been wiser; but on the other hand, this fall-season journey offered plenty of blazing foliage in the dense northwestern woods—particularly those world-famous yellow aspens.
Rerouting
Early next morning came Oakland, where we encountered the first and second of three major delays. To begin with, Amtrak for some reason wanted to send an engine with us down to L.A. Hooking this up took almost an hour.
Shortly thereafter, we learned that a car was stranded on the tracks ahead, making John and me a 0-for-2 with Bay-area autos; the exact same thing happened last July as we concluded a Frisco-bound trip on the California Zephyr. Now, dispatchers handily rerouted our train around the offending vehicle.
An hour later in San Jose, Lorna was preparing to board a cheerful lady in a wheelchair—but this would-be rider had somehow been sold an upstairs bedroom, despite informing the ticket agent of her disability.
Take it from an Amtrak veteran: Even if this lady's friends had offered to carry her to Floor 2, they'd never have gotten up that teensy, twisting staircase. Lorna quickly noted that the lower-level accessible room had just been vacated; she welcomed her new charges into the vestibule, prepped the place swiftly and soon had them ensconced in the car's most spacious digs.
Dust Bowl
From San Jose to Paso Robles, volunteers from the National Park Service commandeered the observation car to comment on local history, landmarks and wildlife, also leading games and activities.
One prime area of interest here is the Salinas Valley, made famous in the novels of John Steinbeck. According to John Pitt's excellent travel guide USA by Rail (Bradt, 2019), Salinas is "America's salad bowl, where huge crops of strawberries, watermelons, spinach and other vegetables fatten in rich black earth beneath a benevolent sun."
Much as I appreciate fruits and veggies, our principal takeaway was a fine coat of dust from 100 miles of farmland. In Paso Robles, I debarked with a wad of wet paper towels from the restroom and wiped down my window. (Sadly, this option is not available to riders on the upper level!)
A lifelong bird fan, I was especially thrilled along this section by the Elkhorn Slough (pronounced "slew"), a seven-mile-long tidal estuary that is home to more than 700 species of marine, land and airborne creatures. I saw pelicans, herons, egrets, ospreys and geese, plus a variety of ducks—and even one sunbathing seal. Apparently, many sea otters live here too.
Recreational Vehicle
But I didn't get any Elkhorn photos; at that time, John and I were lunching with an African-American couple, Samantha and Naomi, who despite looking roughly college-age themselves, were celebrating an empty nest (both kids at UC Berkeley). They were headed to Paso Robles to purchase an RV, with a concomitant switch to "minimalist living." While no one would accuse John or me of the latter, he does own an RV—and, like Samantha, he'd been in the Navy; so that conversation was off and running.
Nonetheless, our most fascinating mealtime chat had been earlier, with Jim and Michelle at breakfast. Perhaps four or five years older than us, they were just finishing a four-month trip in which they bicycled across the entire United States: 4086 miles! I asked if they'd gotten any flat tires.
"Eighteen," said Jim—and he had fixed them all.
Being a cyclist myself and thinking over my daily mileage, I asked Michelle what a good day was. Rather than replying with a distance as I expected, she said simply: "No rain, and no dogs."
"Dude," John suggested afterward, "you and your wife should do a trip like that."
Having spent all summer working up to one 62-miler that wiped me out, I was somewhat less enthusiastic.
A Whale of a View
The rest of the day was the highlight of this trip.
It started with perilously engineered trackage through the Santa Margarita Mountains, providing ample views of the Santa Lucias and famed Route 101 across the valley. All three engines were often in view as they threaded through rock cuts and five tunnels—one 3600 feet long, and another with an S-curve inside!
Emerging from the mountains, we dropped 1000 feet over a route so long, twisty and vertiginous that at one point, I could see a forthcoming bridge a couple hundred feet below us. That was the Southern-Pacific-built Stenner Creek trestle, 80 feet high, 950 long and still in use after nearly 120 years.
And then, after San Luis Obispo: the Pacific Ocean!
Despite the train's alluring moniker—which actually combines two earlier and shorter Southern Pacific route-names—the Coast runs oceanside for only about 100 miles; but it was worth the wait, as the sky caught fire in a blazing ocean sunset. And then, to top it off, several of us were able to glimpse a few whales spouting in the sea offshore.
Third Time Lucky
Our third and final delay came after dark in Santa Barbara, just three hours from our destination. Apparently a trackside blaze had broken out several miles ahead, and a local fire marshal had to make sure it was safe to pass. In this coastal region, rerouting the train would have cost us most of the night; but happily, we were cleared after less than an hour and, despite all the holdups, the Starlight arrived in Los Angeles around 10:20 p.m.—only 70 minutes behind schedule.
We were well fed, well rested and well stocked with memories—including just as many amazing meet-ups as marvelous views.
The Coast Starlight runs daily in both directions, with the northbound departing L.A. around 10 a.m. As with many of Amtrak's long-distance routes, bedroom reservations should be made several months in advance.
About the Author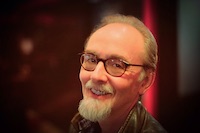 Joseph W. Smith III is a teacher, writer and speaker in Central Pennsylvania. With degrees from Syracuse and NYU, Joe taught high school English for 30 years before retiring to focus on writing. He has compiled seven books, including studies of Hitchcock, the Bible, church life and under-the-radar movies; he also writes for several periodicals and websites. Joe is a church officer, community band member, beer snob, Buffalo Bills fan, book-group leader and lifelong reader who listens to music whenever not sleeping. Contact him directly at robbwhitefan@gmail.com.
All images courtesy of the author.
Frayed Passport is a participant in the Amazon Associates Program, an affiliate advertising program designed to provide a means for sites to earn advertising fees by advertising and linking to Amazon.com.