By: Sarah Stone
One of the very best things about the United States is there's no shortage of hiking, camping, and other outdoorsy fun—just check out these national parks around the country!
1: Essex National Heritage Area
Located 10 miles north of Boston, the Essex National Heritage Area played a significant role in the American Revolution, when locals volunteered their ships and crew to fight the British and join the American Navy. Today, you can visit the Salem Maritime National Historic Site as well as hundreds of other historical sites and landscapes (and shops, restaurants, wineries, and much more) within this gorgeous Northeast region.
2: Cuyahoga Valley National Park
Just outside of Cleveland and Akron, and south of Lake Erie, Cuyahoga is Ohio's only National Park, and a gorgeous destination for hiking and exploration. View gorgeous waterfalls and forests, bike along one of the park's many trails, and learn the history of the Ohio and Erie Canal, which you can visit along Cuyahoga's Towpath Trail.
3: Yellowstone National Park
One of the most well-known National Parks in the US, Yellowstone encompasses 2.2 million acres across Wyoming, Montana, and Idaho. It's the first National Park established in America, and millions of tourists visit every year to see animals like wolves, coyotes, grizzly bears, and bison; to hike along Yellowstone's 1,100 miles of trails; to camp at the park's 2,000 different sites; and of course to witness Old Faithful's eruptions.
4: Gauley River National Recreation Area
Located in the middle of West Virginia, the Gauley River National Recreation Area is accessible only via the Gauley River—an excellent option if you're into whitewater rafting and outdoors exploration.
5: Lassen Volcanic National Park
Located in northern California near Sacramento Valley, Lassen Volcanic National Park is famous for its mountains created by lava flows, as well as its many sulfur vents. Go skiing and snowboarding, check out the hydrothermal pools (just don't go in them), hike up a volcano, or camp out in this beautiful National Park.
6: Isle Royale National Park
Located off of the coast of Michigan in Lake Superior, Isle Royale National Park has 170 miles of hiking trails and 36 campgrounds (some accessible only via trail or river), perfect for those travelers who want to get out into the wilderness for a little while. If you're looking for a less rustic experience, the Rock Harbor area has campsites alongside a restaurant and lodge.
About the Author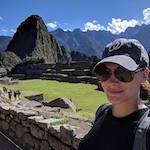 As the editor-in-chief of Frayed Passport, my goal is to help you build a lifestyle that lets you travel the world whenever you want and however long you want, and not worry about where your next paycheck will come from. I've been to 20+ countries and five continents, lived for years as a full-time digital nomad, and have worked completely remotely since 2015. If you would like to share your story with our community, or partner with Frayed Passport, get in touch with me at sarah@frayedpassport.com!
Featured image via Unsplash.
Frayed Passport is a participant in the Amazon Associates Program, an affiliate advertising program designed to provide a means for sites to earn advertising fees by advertising and linking to Amazon.com.