By: Sarah Stone
Turkey's Cappadocia region is famous for its otherworldly landscape sculpted by millions of years of volcanic activity, erosion, and tectonic shifts. This inspiring realm is adorned with whimsical fairy chimneys, subterranean cities built right into the area's rock formations, and beautiful mountains and valleys.
And it's not just the geography of Cappadocia that draws travelers here. The area's complex tapestry has been woven by various empires and cultures, including the Hittites, Persians, Romans, and Ottomans. Step back in time as you explore ancient ruins—including churches and villages—by foot and by air.
Cappadocia's Fairy Chimneys
Rising majestically from the earth, the iconic fairy chimneys of Cappadocia are cone-shaped formations that can reach heights up to 40 meters. These natural wonders owe their existence to ancient volcanic eruptions, which spewed forth a blanket of ash and lava that eventually solidified into soft tuff rock. Wind and water carved the tuff rock into the chimney shapes that delight visitors today—and it wasn't just natural phenomena that shaped the Fairy chimneys. People have cut them into entrances to the Cappadocia region's intricate underground cities, which have housed and protected thousands of individuals and families over the centuries.
The Underground Cities
Hidden beneath the surface of Cappadocia lies another world: a labyrinth of underground cities hewn from the rock by early Christians seeking refuge from persecution during the Roman Empire (and even accessed through the fairy chimneys). These subterranean marvels—such as Kaymakli and Derinkuyu—plunge up to eight levels deep and can accommodate thousands of inhabitants. Complete with intricate ventilation systems, water wells, and even stables for livestock, these ancient dwellings provide a fascinating window into the lives of the people who once called them home.
The Valleys of Cappadocia
The geological wonders of Cappadocia don't stop with fairy chimneys and underground cities. The region is home to iconic sites such as Pigeon Valley, Love Valley, and Devrent Valley, which showcase rock formations in all their glory, each shaped by the same volcanic eruptions and erosion that created the fairy chimneys. These formations are composed of rock types like tuff, basalt, and andesite, and contribute to the region's geological allure.
Of particular note is Zelve Valley, revered for its unique formations and mysterious cave dwellings. Home to 15 Byzantine-era churches, the valley was a cave settlement that, while currently an open-air museum, was a functioning Turkish village until the 1960s.
Göreme National Park and Open Air Museum
One of the Cappadocia region's most renowned attractions is the Goreme National Park and Rock Sites, a remarkable UNESCO World Heritage Site that invites you to step back in time. This open-air sanctuary is home to an incredible array of rock-cut churches and monasteries dating as far back as the 10th century—a fascinating glimpse into the region's rich history and culture.
Don't miss the opportunity to see the Dark Church, where exquisite frescoes have been preserved for centuries. Another must-see is the Chapel of St. Barbara, adorned with intricate carvings and vibrant paintings that bring its ancient walls to life.
Uchisar Castle
One of the area's iconic landmarks, Uchisar Castle was carved right into a massive, 60-meter-high rock formation, with a city built to surround it below. At one time, about 1,000 people lived in the castle's crisscrossing underground passageways and rooms. Most of these areas are closed off, and the castle itself is uninhabited now, though you can tour the site and visit what's left of the castle.
The Taurus Mountains
Spanning southern Turkey, the Taurus Mountains are known for their deep valleys, steep cliffs, and beautiful rock formations. They're a popular destination for adventurers interested in hiking and rock climbing, and have trails and treks available for travelers of all skill levels. Hike to the summit of Mount Erciyes (a little outside of the region, but a fantastic experience if you have a little extra time)—which reaches an elevation of nearly 13,000 meters!
Hot Air Balloon Rides
One of Cappadocia's most popular activities, hot air balloon rides are an unforgettable way to experience the region's wonders. Balloons usually take off in the early morning just before sunrise, when winds are calm and the lighting is perfect for photos. Most hot air balloon rides last about 45 minutes to an hour, and the route depends on wind patterns and weather conditions.
Hiking
Hiking is another wonderful way to explore the Cappadocia region, with many trails and treks available throughout the area.
Love Valley hiking: Hike through the picturesque Love Valley, where you can admire the unique rock formations that Cappadocia is famous for—the trail is relatively easy and is suitable for hikers of all skill levels.
Pigeon Valley hiking: This is a moderate hike that will take you through the Pigeon Valley, known for its many pigeon houses and beautiful views of the surrounding landscape.
Red Valley hiking: The Red Valley Trail is a more challenging hike that takes you through the Red Valley, which is named for its rock formations' red and orange hues. You will also be able to see the fairy chimneys and the Uchisar Castle.
Rose Valley hiking: This takes you on a moderate hike through the Rose Valley, known for its many rock-cut churches.
Ihlara Valley hiking: The Ihlara Valley trail is a longer hike (about six to seven hours if you complete the entire route), where you'll follow the Malendiz Stream and see rock-cut churches and monasteries.
Embracing the Magic of Cappadocia
Cappadocia is a mesmerizing destination full of unique geological wonders, a storied history, and thrilling activities for travelers who'd like to fully experience all this region offers.
Have you had the opportunity to visit Cappadocia? Share your stories and advice with the Frayed Passport community!
About the Author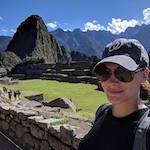 As the editor-in-chief of Frayed Passport, my goal is to help you build a lifestyle that lets you travel the world whenever you want and however long you want, and not worry about where your next paycheck will come from. I've been to 20+ countries and five continents, lived for years as a full-time digital nomad, and have worked completely remotely since 2015. If you would like to share your story with our community, or partner with Frayed Passport, get in touch with me at sarah@frayedpassport.com!
Featured image by Darren Lee on Unsplash
Frayed Passport is a participant in the Amazon Associates Program, an affiliate advertising program designed to provide a means for sites to earn advertising fees by advertising and linking to Amazon.com.