By: Sarah Stone
If you're looking for an affordable way to travel to Australia, a working holiday may be exactly the right choice: not only can you explore this beautiful country and all it has to offer, but you'll also have a chance to boost your income! If Australia is on your bucket list, this can be an incredible opportunity—let's take a look at what's required to get a working holiday visa for Australia, and how you can get there.
Is it Easy to get Australian Working Holiday Visa?
There are tons of work abroad programs for those planning to work and travel in Australia. If you've always dreamt of experiencing this iconic country in Oceania, work and travel programs can help you get a guaranteed job before you even leave home! Whether you're looking for an internship opportunity or a paid work program, jobs with reputable companies are plentiful for travelers visiting Australia.
If you're between 18 and 30, it can be quite simple to find a basic work and holiday visa for Australia, and you can stay up to one year—click here to see a list of eligible countries and the requirements to apply. If you're over the age of 30, there are different options, such as placement as a skilled worker, or having an Australian company sponsor you. In general though, the working holiday visa is relatively easy to obtain if you fit the basic requirements, and are able to prove that you have enough funds to sustain yourself outside of work.
How You can Earn Money Enjoying Life in Australia
There are boundless ways you can earn money during your trip Australia, but not everyone knows how to apply for them. Here, only your imagination can limit you, but of course you need to be sure the type of work you'd like to do is allowed in Australia. Some of the most popular options for travelers living and working in Australia include teaching, landscaping, farming, fruit picking, and hospitality. Or you can get more creative and work as a photographer by interning with an Australian marketing company, or you can work as a designer or writer!
How to get a Working Visa for Australia
If you're interested in the working holiday visa and you fit all the requirements to apply, it can take as little as 48 hours to get approval. The application itself costs AU$450 for processing, plus an AU$20 government fee, and an AU$140 visa application fee. A work visa for Australia is a must-have if you're not an Australia or New Zealand citizen—and if you're not sure about working just yet, or haven't found something to line up for your travels, you can certainly apply for other visas, such as a tourist visa or a student visa.
Do you have the skills that Australia is looking for? Use work and travel programs like Skillselect, Greenheart Travel, and Alliance Abroad to find your perfect working and traveling holiday in this gorgeous country!
About the Author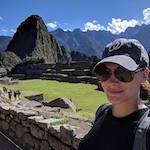 As the editor-in-chief of Frayed Passport, my goal is to help you build a lifestyle that lets you travel the world whenever you want and however long you want, and not worry about where your next paycheck will come from. I've been to 20+ countries and five continents, lived for years as a full-time digital nomad, and have worked completely remotely since 2015. If you would like to share your story with our community, or partner with Frayed Passport, get in touch with me at sarah@frayedpassport.com!
Frayed Passport is a participant in the Amazon Associates Program, an affiliate advertising program designed to provide a means for sites to earn advertising fees by advertising and linking to Amazon.com.