By: Sarah Stone
Being among the eldest European centers and second-largest city in Portugal after Lisbon, Porto is among the biggest urban areas of the Iberian Peninsula. It is the home for the famous Futebol Clube do Porto, and as a heavily industrialized city, the exquisite beauty and rare elegance as well as the rich Portuguese architecture, Porto is one of the world's best travel destinations. Let's have a look at some of the best restaurants in Porto!
Best Restaurants in Porto, Portugal
Famous for its local Port wine, this city sits along the Douro River and is a wonderful destination for foodies, history buffs, and photographers, both new and seasoned. For the best of traditional Portuguese cuisine, the best restaurants in Porto, Portugal present you with a number of amazing dishes—from local cuisines to a variety of seafood, and from Italian and Mexican dishes to more traditional and local foods, check Porto's menu and enjoy the best dining experience!
A holiday experience in Porto can't be complete without enjoying both quick bites as well as spending time to delight in the finest of Portuguese dishes.
If you are traveling on a budget, there are lots of cheap eats, like Marianus Hamburgueria Artesanal, which offers tasty, good-sized portions. The menu offers many hamburger options to choose from, and the service is excellent—making all the difference in a touristy area.
Restaurant Essência: From world class curries to wholesome soups and pasta dishes, Restaurant Essencia is loved for its plentiful vegetarian dishes. Enjoy a relaxed evening as you sip a glass of wine or cup of coffee and excellent two-course meals.
Wine Quay Bar: For travelers looking for a Mediterranean kitchen with an eclectic feel, Wine Quay Bar is the place to be. This prestigious restaurant gives you a full-day wine tasting tour along with incredible Portuguese food—plus a river cruise, if you'd like!
Taberna dos Mercadores: If you are looking for a petite place full of fresh air, Taberna dos Mercadores should be on your must-see list. They offer elegant Portuguese food and exceptional service, and is home to some of Porto's best fish, meat, port, and other wines. This tiny Portuguese restaurant gets crowded during the weekend, so be sure to get there early!
The Yeatman: Nothing feels better than enjoying food away from home in a hilly restaurant that gives you the paramount views over the Douro River and the unsurpassed historic city center. Diners are free to choose between three tasting menus or diverse dishes from the menu—great wine is also served, of course.
Restaurante Cafeina: For the best dining in Porto that will invite you to enjoy the region's delicacies, Restaurante Cafeina is the place for you. With Portuguese, Italian, and French cuisines, the menu is regularly updated to provide unique dining experiences for locals and visitors alike. The sleek interior, entertainment from local artists, and the light summer sea breeze makes this restaurant a perfect travel destination for fancy enthusiasts.
How do you embrace the FIRE (Financial Independence and Early Retirement) lifestyle while addressing financial risks? One solution: semi-retire and travel the world. Let's look at how to get there in this comprehensive guide!
About the Author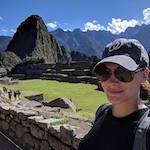 As the editor-in-chief of Frayed Passport, my goal is to help you build a lifestyle that lets you travel the world whenever you want and however long you want, and not worry about where your next paycheck will come from. I've been to 20+ countries and five continents, lived for years as a full-time digital nomad, and have worked completely remotely since 2015. If you would like to share your story with our community, or partner with Frayed Passport, get in touch with me at sarah@frayedpassport.com!
Featured image via Unsplash.
Frayed Passport is a participant in the Amazon Associates Program, an affiliate advertising program designed to provide a means for sites to earn advertising fees by advertising and linking to Amazon.com.