Like many classic bands such as the Eagles, Chicago and the Doobies, British prog-rockers Jethro Tull have now been active in seven different decades.
But unlike those groups, Tull is still cranking out inventive new albums that sell well—even though progressive rock no longer seems relevant or even widely known. Tull's last two releases, The Zealot Gene in 2022 and this year's RökFlöte, both charted at No. 3 or 4 across much of Europe.
But why, you may ask, does a travel piece open with this encomium to rock music?
Well, Jethro Tull is my favorite band, and with only 16 U.S. dates on their latest tour, I wound up traveling nearly 50 hours to catch them in Indianapolis.
It was worth the effort—and a great excuse to travel by rail.
The Navigators
Discussing this kooky idea with a fellow-fan of both Tull and trains, we noted that Amtrak's lesser-known Cardinal—a meandering 30-hour trek through Appalachia—would work perfectly, even though it runs only three times a week.
For our Saturday show, we could board in Baltimore at 9:30 Friday morning and arrive at the Indiana state capital around 5 a.m. the day of the gig. The eastbound Cardinal would return to Indy near midnight that evening—right after the concert. We would just need a place to hole up for the day, which my well-traveled friend could manage with his premium hotel status.
Skimming the photo gallery at a downtown Marriott, I found a window-shot of our concert venue right across the street. Since John and I love the Cardinal but have never ridden it westbound, this trip quickly became a no-brainer.
Related: Traveling with the Amtrak Auto Train—Living the Semi-Retired Life
Sweet Dream
Having departed Manhattan at 6:45 a.m., Amtrak 51 arrived on time in Baltimore with its modest consist of two coaches, a cafe-lounge and a pair of sleepers.
Reaching 120 mph on the Amtrak-owned Northeast Corridor, we swiftly finished our first leg to DC, where the Cardinal took its standard 40-minute breather to switch from electric to diesel power.
After Alexandria, 51 rolls through forests, fields, hills and mountains, eventually entering the breathtaking New River Gorge—about 160 miles of rapid-riddled river in remote regions; some of Amtrak's stops along here—Thurmond and Prince, WV, for instance—have populations under 100.
Near the end of this scenic segment—which occurs toward sunset on the westbound trip—51 runs beneath the massive and elegant New River Gorge Bridge, third-highest span in the United States.
Related: Underrated Places to Visit in Washington, DC
Later, That Same Evening
For accommodations, long-distance Amtrak offers inexpensive coach seats—very roomy, though not great for overnight—or a choice of bedrooms. On the Cardinal, these are either a "roomette" that sleeps two but is tight, or a more costly "deluxe" with wider beds and a private bathroom.
John and I chose separate roomettes on the way out, which is sometimes cheaper than a single deluxe. We were impressed by the recently refurbished Viewliner roomettes, which offer not only a fold-down sink but also far more lights, sockets and storage crannies than earlier versions.
Sleeper fare includes all meals; but these were less successful, as Amtrak has pulled dining-cars off nearly all its eastern trains. The once-dandy chef-cooked choices are replaced with a selection of microwaved meals that have been justly compared to airline food—though I did like the brand-new Kofta Kebabs, a curried vegetarian item with raisins, chickpeas, cauliflower, cashews and plant-based protein.
In any case, it's always a pleasure to sit with a meal while lovely scenery rolls past outside. Rather than eating in our rooms, we took advantage of broader tables and windows in the lounge car, though much of this had been permanently commandeered by the crew.
A New Day Yesterday
Facing a 5:15 a.m. arrival, John and I crashed early and were up by 4:30. Pulling in very close to on-time, we descended into the Indy station, which is really the Greyhound bus terminal, since Amtrak has only six trains a week here (three in each direction).
I must say, I expected decent depot digs at a state capital; but in truth, this aptly named terminal looked like the waiting room to hell: a few rickety sets of seats and several sleeping long-term residents surrounded by their bottles and belongings. We swiftly vacated into pre-dawn darkness, finding just one lone taxi to ferry us to our hotel.
By the time we settled into our 23rd-floor room—with a window looking out over Indy's still-silent downtown—a blood-orange sun was rising behind the handsome state capitol.
Velvet Green
I ventured forth for a morning walk in adjacent White River State Park, a vast area of greenery and waterways so well maintained that workers were already out clearing litter. Within walking distance of three major stadiums—homes to the NBA Pacers, the NFL Colts and triple-A Indians baseball—White River features wildlife, waterfalls, winding paths, sculpture and fish-filled reflecting pools. It also held our concert venue: the TCU Amphitheater, where I noted Tull's tour bus parked out back. Sadly, frontman Ian Anderson, one of my musical heroes, was nowhere to be seen.
I also strolled over to the CSX train tracks for a possible freight photo; but upon climbing the embankment through trash and weeds, I heard a voice holler fiercely, "Get back to work!" It was another homeless man, who followed this remark with a volley of epithets as he lay inside his neon-blue sleeping bag across the tracks. I don't know what he thought my occupation might be, but I quickly decided that getting cursed out by a surly vagrant wasn't it.
Outside my skill-set—and lousy benefits.
With You There to Help Me
Meanwhile, my Facebook post about our trip was seen by my wife's cousin, whom she and I had recently met after his move to the U.S. from China. Reminding me that he now lives near Indianapolis, Wentao offered to travel in with his wife and join us for dinner. When we welcomed this idea, they also bought tickets for the show—even though the two of them knew nothing about Tull!
Our hotel handout listed 178 eateries in downtown Indy; Wentao and Xiaohan  suggested the Garage Food Hall—a sprawling space inside a former Coca-Cola bottling plant; it's a sort of high-end food court offering burgers, pizza, poke, ice cream, seafood, barbecue, Cuban, Asian, Mexican, Brazilian, Greek, Pakistani, Venezuelan and a variety of beers, wines and whiskeys—plus various other retailers, including a barber shop.
In classic food-court fashion, each of us grazed the vendors and dined together at a central table; my best find was lemon-lavender ice cream.
It sure beat the heck out of Amtrak food.
Minstrel in the Gallery
We then Ubered back to the concert, which was among the best of the seven Tull shows I've seen.
The band carefully played tunes from every decade, covering their characteristic wide range of styles: easy folk ("We Used to Know"); Celtic rock ("Heavy Horses"); classical (Bach's "Bouree," Faure's "Pavane"); Christmas (the bristling "Holly Herald" medley); hard rock ("Sweet Dream," "The Navigators"); and a pair of lengthy, shape-shifting rarities ("Farm on the Freeway" and the operatic "Dark Ages").
Altogether, a great intro to Western music for my new-met cousins.
Despite a recent diagnosis of COPD, Anderson handled nearly all the vocals; nor has he lost a step on his hard-rocking flute solos. And yes, he can still play standing on one leg.
As they have since the mid-seventies, Tull closed with "Aqualung"—here radically rearranged into a dazzling 10-minute epic—then the fan-fave "Locomotive Breath." That was accompanied by copious railroad footage on the big screen—which coupled nicely with our train-travel trip, I thought.
Bungle in the Jungle
Downtown Indy was hopping after the show: There had been a pre-season Colts game against the Bears, a rare matchup that brought hordes of fans down from the windy city. (Colts won by notching 17 points in the fourth quarter, including a go-ahead touchdown with 70 seconds left on the clock.)
Gridlock was so bad that GPS showed it would take twice as long to Uber to the train as it would to walk; so we hauled our luggage the requisite mile, finding the terminal even drearier than it looked that morning. Not only was one fellow angrily packing and repacking his suitcase all over the highly questionable flooring, but also, we found very little signage and no personnel to guide the handful of uncertain rail passengers—like maybe, someone or something to tell us the train was running an hour late.
When it finally clattered in overhead, there was still no one to assist—particularly needful in the case of a nervous young single mom with a tiny baby and a mammoth suitcase. So who helped her out? Yours truly—a 63-year-old male with two bags of my own and a set of aching joints from that recent crosstown trek.
And that was only the beginning.
Nothing Is Easy
Boarding close to 1 a.m., we learned that our sleeper attendants had allowed a lone traveler to take our room; so we sat in the lounge car for 20 minutes while they moved him to the correct room and remade our bedding. Meanwhile, a passenger manifest was lying on one lounge table with our names first, clearly listed in Room A. How long was that bed-thief on the train while three different attendants failed to notice something we picked up in a couple of minutes?
Bunking down near 2 a.m., we asked the steward not to wake us for breakfast, but were nonetheless roused for our order at 7:30.
Once again, the onboard crew consistently occupied four of the six tables available for dining in the sleeper-side of the lounge car. At one point, with an unaccompanied minor dozing across one seat, there was not a single place available for lunch. Finally the cafe attendant, who was busy with her regular work selling food to coach passengers, took it upon herself to clear a sleeper table so we wouldn't take up much-needed space on her side of the car.
We also had numerous trainees aboard who spent most of their time discussing how hard their jobs were and lingering over their own Dunkin Donuts, Chik-fil-A, fresh fruit and other goodies stashed away in a private locker.
All told, this was easily the most annoying Amtrak service I've experienced; much of the angry verbiage above is lifted straight from the "chew-on-this" survey I filled out post-trip.
Locomotive Breath
The eastbound Cardinal was another sweet and sunny ride on a day whose sights included two bald eagles along the river. Though our engineer did his best to make up time with near-record speed between DC and Baltimore, we ran 60—90 minutes late over most of the route, including at our destination.
In part, this was a carryover from an initial delay when the Cardinal departed Chicago, where Amtrak has lately been plagued by mechanical breakdowns. This in turn is largely due to 50 years of meager federal funds, resulting in an aging fleet that is only just starting to get replaced. Many of the railroad's exhausted engines are falling apart several decades of hard work.
Happily for us, that was not the case with Jethro Tull.
Ok, while this Amtrak experience wasn't optimal, here's a very cool story from Joe about traveling from Chicago to California on the Zephyr—a gorgeous railway adventure through the Rockies and the Sierra Nevadas!
About the Author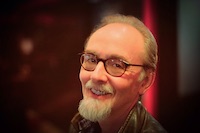 Joseph W. Smith III is a teacher, writer and speaker in Central Pennsylvania. With degrees from Syracuse and NYU, Joe taught high school English for 30 years before retiring to focus on writing. He has compiled seven books, including studies of Hitchcock, the Bible, church life and under-the-radar movies; he also writes for several periodicals and websites. Joe is a church officer, community band member, beer snob, Buffalo Bills fan, book-group leader and lifelong reader who listens to music whenever not sleeping. Contact him directly at robbwhitefan@gmail.com.
Want to connect with fellow travelers? Join our NEW Facebook community and share your insights and questions with nomads, expats, and other travel lovers worldwide!
Frayed Passport is a participant in the Amazon Associates Program, an affiliate advertising program designed to provide a means for sites to earn advertising fees by advertising and linking to Amazon.com.