By: Sarah Stone
Malaysia's capital city of Kuala Lumpur is a wonderful destination for travelers of all types, and has consistently been ranked among the top Southeast Asian cities for expats to settle in due to its welcoming nature, great infrastructure, ease of access to other popular places like Singapore and Thailand, and its relatively low cost of living (you can get by comfortably on just over $1,000 per month).
A favorite for short- and long-term travelers alike, Kuala Lumpur should be on your list if you're pursuing the digital nomad lifestyle and aren't sure yet where to go.
Let's have a look at how you can get there, and some fantastic things to see and do during your stay!
Does Malaysia Have a Digital Nomad Visa?
Yes!
It's called the DE Rantau Nomad Pass, and allows digital nomads to live in Malaysia for up to a year, with the possibility of extending for an additional year.
Launched in October 2022, the visa is an excellent option if you're a remote worker looking for a welcoming destination in Asia. Under this visa, you don't have to pay income tax in Malaysia (unless you're working for a Malaysian company), and you can bring a spouse and dependents with you. The pass also gives you access to coworking spaces and other services to help you succeed with your work and connect with fellow nomads.
To qualify, you must:
Be a remote worker employed by a company based outside of Malaysia, or be a freelancer or contractor working locally or remotely for a foreign company
Work within an IT-based industry, which can include marketing, design, and other common remote work types in addition to coding
Earn at least $24,000 per year
Have a clean criminal record and proof of health insurance covering your stay in Malaysia
Click here to get started with your application for the Malaysia DE Rantau Nomad Pass.
What's the Cost of Living for Expats in Kuala Lumpur?
According to Numbeo, you can rent a one-bedroom apartment in the city center for about $430. A three-bedroom apartment in the same area would be about $980 per month. In addition to that, you should expect to spend a little over $500 per month for utilities, transportation, groceries and restaurants, and other expenses.
8 Best Activities for Travelers in Kuala Lumpur
There are tons of things to do while visiting Kuala Lumpur—let's look at a few of our favorites:
Visit the Petronas Twin Towers
At 88 storeys tall, the Petronas Towers are the tallest twin skyscrapers in the world, and are an iconic symbol of Kuala Lumpur. Here, you can go shopping at the luxurious Suria KLCC, and even enjoy the jogging paths at the KLCC Park. There's also a famous double-decker skybridge on the 41st and 42nd floors—it's open to the public, but on a first-come first-served basis, and offers a breathtaking view of the city.
Enjoy the KL Tower
On the subject of iconic towers, the KL Tower is among the tallest telecommunication towers in the world, and offers an incredible panoramic view of the city. It has several observation decks that you can visit, plus a revolving restaurant.
Go shopping at the Central Market
You could spend a whole day in Kuala Lumpur's Central Market—a super popular shopping destination with a wide variety of handicrafts, souvenirs, and local products from Malaysia and neighboring countries. You can also find lots of street food stalls and restaurants here!
Visit the National Museum
Head over to the National Museum, which houses art, artifacts, and other objects related to Malaysia's rich history. Centrally located within Kuala Lumpur, the museum has lots of exhibitions on the country's culture and its story, and is a must-see for its displays and galleries.
See the National Mosque
The National Mosque is a beautiful, iconic building that combines traditional Islamic and modern design elements—go on a guided tour here (the mosque is open to people of all faiths) to learn about its rich history, as well as to learn a little about Islam.
Take a trip to the Orchid Garden and the Hibiscus Garden
If you're a nature lover, you should make time to visit these two gorgeous botanical gardens with an array of tropical plants. Within the Orchid Garden, you can find hundreds of species of orchids from all over the world. A short walk away is the beautiful Hibiscus Garden, where you can see the national flower of Malaysia in a dazzling array of colors!
Stroll through the Kuala Lumpur Bird Park
The 21-acre Kuala Lumpur Bird Park is home to more than 3,000 birds from over 200 species, and is one of the largest covered bird parks in the world. Take a guided tour of the park or check out the Education Station to learn about the birds you'll find here, and stick around for a bird show or feeding!
Explore the Batu Caves
Located just outside of Kuala Lumpur, the Batu Caves are a group of limestone caves and temples containing Hindu temples and shrines. The entrance to the main cave is marked by a 43-meter tall gold-plated statue of the Hindu deity Murugan—the world's second-tallest statue of this deity. Go on a guided tour or audio tour to learn more about the caves and their history, or try out one of the 160 different rock climbing routes in the area.
Wrapping It Up
There's so much to see and do in Kuala Lumpur, and since Malaysia has made it much easier for digital nomads and expats to live here, it should be at the top of your must-see destinations list!
If you've had the chance to travel here, or if you're looking for advice from fellow travelers around the world, join the Frayed Passport community and start the conversation!
About the Author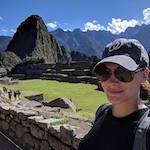 As the editor-in-chief of Frayed Passport, my goal is to help you build a lifestyle that lets you travel the world whenever you want and however long you want, and not worry about where your next paycheck will come from. I've been to 20+ countries and five continents, lived for years as a full-time digital nomad, and have worked completely remotely since 2015. If you would like to share your story with our community, or partner with Frayed Passport, get in touch with me at sarah@frayedpassport.com!
Featured image by Esmonde Yong on Unsplash
Frayed Passport is a participant in the Amazon Associates Program, an affiliate advertising program designed to provide a means for sites to earn advertising fees by advertising and linking to Amazon.com.