Kauai is fondly known as Hawaii's "Garden Isle"—but there's a lot more to this tropical paradise than fresh fruit and flora: Towering cliffs; roaring waterfalls; dozens of beaches; monk seals and sea turtles; reefs teeming with colorful fish; and, perhaps most notably the multi-colored Waimea Canyon. Aptly nicknamed "the Grand Canyon of the Pacific," it's a mile wide, 10 miles long and 3600 feet deep.
But what I like best about Kauai is that, despite attracting 1.2 million tourists every year, it also feels like a real place: bustling towns, blue-collar businesses, weathered one-story homes, hole-in-the-wall eateries and vast open vistas (zoning allows no buildings more than four stories—the height of an average coconut palm).
It's a place where real people live and labor, go to church, shop for groceries, keep up with yardwork, get stuck in traffic, take their kids to the beach—and yes, grow luscious fruit in their own backyard.
Round and Around
At 562 square miles, Kauai is the northernmost Hawaiian island—and virtually the farthest west as well, since Niihau, the final isle, is privately owned.
Unlike its sister islands, Kauai is nearly round—or more properly, heart-shaped. Using Kauai's principal two-lanes—Routes 50, 56 and 560—it's about 60 miles from the charming Poipu on the south to other tourist meccas in the north—Haena, Princeville and Hanalei; but it can take more than two hours to drive this route. That's due in part to the busy towns, beachside parks and changing terrain along the way; but also, as 560 nears its northwest terminus, the road crosses no less than 10 single-lane bridges where opposing cars must yield to one another—and then, just before Ke`e Beach, a broad flat stream actually flows right across the road!
(It's worth noting here that due to a pair of recent landslides, the tiny, remote and lovely Ke`e can currently be reached only by shuttle from Princeville.)
Cliffs and Canyons
Kauai features roughly 90 miles of coastline, but a fifth of this is inaccessible by car—namely, the world-famous Na Pali Coast.
With heavily ravined, 4000-foot cliffs soaring straight up from shore, Na Pali extends 16 miles from Ke`e—all the way down to Polihale State Park on the far western shore. Except for the first two miles beyond Ke`e, the treacherous trails in these wilds require a permit; they are for experienced hikers only.
Luckily, numerous boat tours will take you out for awe-inspiring views of the Na Pali cliffs; on my family's first visit, our tour was briefly accompanied by a pod of bottlenose dolphins leaping happily beside the bouncing boat.
Na Pali can likewise be seen by helicopter tours, which are expensive but readily available. I've been told the copter is also a great way to see Kauai's crown jewel, the jaw-dropping Waimea Canyon. But you'll find it nonetheless eye-popping to drive the twisty, 17-mile road along this gorgeous gorge. Pull over often, and be sure to stop halfway at Waimea Canyon Lookout, where the massive valley spreads out in hues of rust, green, purple and brown—while two-tiered Waipo`o Falls is visible far up the canyon on your left.
The Way of Water
If you drive all the way to the end of Waimea's gorge-side road, you'll have risen nearly 5000 feet—to Pu`u o Kila Lookout, advertised as one of the wettest spots on earth; for this reason, cloud cover often obscures views down to the Na Pali cliffs.
In fact, Kauai's mountainous interior averages more than eight feet of rainfall a year, holding a near-record 12 inches in one hour during a 1956 storm. This copious tropical precipitation gives rise to seven major rivers, all of which originate at 5100-foot Mt. Wai`ale`ale in the island's center.
That watery network in turn generates countless cascades across the mountainous isle, some best accessed by guided tours and others by hiking. Happily, the spectacular Wailua Falls can easily be reached by car; well marked with signs along Route 56, it's just north of Lihu`e—a sizable central city that's home to Kauai's principal airport.
The island's isolated waterfalls and sculptured jungle terrain help explain why more than 60 films and TV shows have been shot on location here. These include Raiders of the Lost Ark, South Pacific, Body Heat, Avatar, The Descendants, Donovan's Reef, Six Days Seven Nights, The Man with the Golden Gun, Tropic Thunder, A Perfect Getaway, Elvis Presley's Blue Hawaii and the first four Jurassic Parks—along with episodes of Gilligan's Island and Fantasy Island (the latter's opening credits prominently feature Wailua Falls).
Arguably the most intriguing of these many titles is Roger Corman's 1958 B-movie She Gods of Shark Reef. Ocean, coral, goddesses and sharks—what more could you ask?
On the Beach
Consider a visit to tranquil Hanalei Bay in the north, where locals can point out a promontory shaped like a massive dragon's head resting at the entrance of the bay. Not only does it "smoke" at the snout when surf comes crashing, but also, the cliff-head connects to a vast rocky "neck" that rises into a full-bodied mountain range; once you wrap your brain around this, you simply cannot unsee it.
On the southern end, don't miss Spouting Horn, a shoreline blow-hole where incoming waves create a bursting geyser that spouts and sprays with a beast-like roar.
And then there's the snorkeling.
Kauai has more than 40 public beaches, most of them shallow and rocky enough for copious tropical fish. My wife is always on the look-out for Hawaii's state fish, the handsome humuhumunukunukuapua`a, or "triggerfish"—oddly shaped and even more oddly colored. Watch also for tangs, wrasses, sergeant majors, butterfly fish, Moorish idols, needlefish—and if you keep an eye on the seabed, you'll note many sea turtles; these are not afraid of humans and often swim right up alongside, as though you aren't even there. Sometimes you can catch one or more of these creatures resting on the beach—in which case of course, you mustn't disturb them.
And that goes double for the endangered Hawaiian monk seal, of which there are only 1400 left in existence. These docile but massive creatures, 6—8 feet long and weighing up to 400 pounds, will inch-worm up the sandy shore and rest in the sun for hours at a time.
One evening in 2022, as we watched turtle after turtle crawl out onto the beach for an overnight snooze, a snorkeling father and daughter wound up swimming nearly 15 minutes with two monk seals who were frolicking offshore. What a memory!
Rocks and Riptides
While we're on the beach, be wary of rip tides.
Sudden, common and deadly, these are currents that carry you swiftly away from the shore. If you get caught in one, the key is not to panic—and don't try to swim against it; the rip may pull you out, but it will eventually subside. Many experts advise swimming parallel to the beach instead of fighting the tide.
Your best bet, of course, is sticking to the many lifeguarded beaches (lists available online). For families with kids, Lydgate near Lihue is well protected by a huge man-made wall—though there are plenty of fish inside the enclosure for young snorkelers; Salt Pond and the eastern end of Poipu also have walls. And keep in mind that northern beaches are calmer in the summer, while the south is milder during winter months.
When waves do come in, there's plenty of surfing as well; in the right season, one can nearly always see guys and gals on their boards far offshore where the crests are breaking.
For the Birders
An inveterate birdwatcher, I also get a bang out of the island's widely varying avian array. There's the handsome but noisy myna, which I never tire of—even though they're everywhere in Hawaii.
Also cool: a pervasive species of mourning dove, smaller and with heavy cross-hatching on the back; colorful java sparrows; the red-crested cardinal—similar to the mainland variety, but with a silver body and a crimson head; and the beloved nene (NAY-nay), a boldly striped goose of modest size that is the Hawaiian state bird.
But no discussion of Kauai's fowl would be complete without mentioning the feral chickens, which ceaselessly peck, prowl, brood, cackle and crow all over the island. The general theory is that domesticated chickens were freed from their coops by hurricanes 30 or 40 years ago; these then mated with wild junglefowl that had been brought to the island by Polynesian travelers much, much earlier.
(Fascinating side note: Yes, Captain James Cook is said to have "discovered" Hawaii, which he named the "Sandwich Islands," in 1778; Cook landed in Waimea, where there now stands a statue of the famed navigator. But in fact, Hawaii was originally settled by Polynesians from the Marquesas, crossing 2000 miles of ocean in outrigger canoes—which begs the question of how on earth they even knew the place was there.)
In any case, Kauai's chickens proliferate unhindered, as they have no natural predator on the island. On a recent trip, one mouthy rooster outside our resort was convinced that dawn kept breaking once or twice an hour all night long. I was beginning to feel that a nice breakfast of home-made chicken noodle soup might be in order—but it's well known locally that these birds make lousy eating.
Fawning on Flora
For flora fans, Kauai also has four large botanical gardens—and indeed, this "Garden Isle" is bursting with abundant plant life; on our 2016 visit, the owner of our condo left us a bunch of the small, sweet-as-candy "apple bananas" that he picked from a tree right outside our room. In fact, visitors do well to look up the various farmer's markets on set days around the island; here, you can get a vast array of fresh-cut tropical flowers, along such tasty fruits as mangoes, avocados, starfruit, papayas, dragonfruit and something called a soursop, which does not look or taste like anything else I've ever had. All this produce is, by the way, much more flavorful than what we get from mainland grocers—and it stays fresh longer too.
One final traveling tip: Kauai is 2600 miles from California and of course, more than twice that far from the East Coast. Cross-country trips to Hawaii can take 24 hours door to door—with the added stress of five or six hours' time differential. Plan to spend at least a week so you can rest and adjust; and the same goes for your return.
On our most recent trip, we checked out of a Poipu resort around 9 a.m. and did not pull into our Pennsylvania driveway till after 3 p.m. the next day. So yeah, heading to and from Hawaii can be exhausting.
But as you can see from this brief tour of one special island—it's worth the effort!
About the Author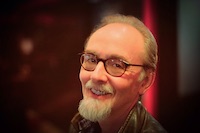 Joseph W. Smith III is a teacher, writer and speaker in Central Pennsylvania. With degrees from Syracuse and NYU, Joe taught high school English for 30 years before retiring to focus on writing. He has compiled seven books, including studies of Hitchcock, the Bible, church life and under-the-radar movies; he also writes for several periodicals and websites. Joe is a church officer, community band member, beer snob, Buffalo Bills fan, book-group leader and lifelong reader who listens to music whenever not sleeping. Contact him directly at robbwhitefan@gmail.com.
All photos courtesy of the author unless otherwise attributed.
Want to connect with fellow travelers? Join our NEW Facebook community and share your insights and questions with nomads, expats, and other travel lovers worldwide!
Frayed Passport is a participant in the Amazon Associates Program, an affiliate advertising program designed to provide a means for sites to earn advertising fees by advertising and linking to Amazon.com.