By: Sarah Stone
As Colombia's bustling capital city, Bogota is a cosmopolitan metropolis in South America, and a haven for people who wish to soak up history, culture, and picturesque sights. It's also a must-visit for avid foodies who want to dine like champions! If you want to revel in the amazing food and try the best restaurants in Bogota, then you should add these highly-acclaimed eateries to your list.
Matiz makes a strong restaurant choice for people who are searching for sophisticated dining journeys. The Italian menu consists of a vast array of hot and cold options alike. It doesn't matter if you're in the mood for steak tartare, salmon, gnocchi, or ravioli—Matiz will without a doubt satisfy your desire for mouthwatering and irresistible cuisine.
Tábula is a Bogota hotspot that blends foods from Latin America and the Catalan region of Spain. If you're looking for straightforward and basic ingredients, you'll have the meal of a lifetime here. And being steps away from a number of museums, Tábula is an excellent choice if you're out sightseeing for the day! A few choice dishes include spaghetti, shrimp, tacos, and salad—sweet treats like flan and chocolate brownies also are a must-have.
People who are bona fide foodies won't want to miss out on Restaurante El Portico in Bogota. This is a true favorite among locals, and accommodates diners who have all kinds of food preferences. If you want to sample seafood or grilled steak, Restaurante El Portico won't let you down! Or try the fried pork belly, which is absolutely out of this world.
Leo is an absolutely thrilling restaurant choice: here, you'll be served dishes 100% native to Colombia, with a focus on ecology, biodiversity, and community. Ingredients in the tasting menu may include ants, corozo fruit, rabbit, and much more. As one of the very best restaurants in Latin America, Leo is a can't-miss for serious foodies visiting Colombia.
If you have a longing for fare that's reminiscent of the Mediterranean region, then consider stopping by Casa in Bogota. If you're an architecture buff as well as a foodie, you'll love Casa—as an architectural heritage site designed by Guillermo Bermudez, this restaurant is a wonderful option for dinner. Try the tuna tartare or the mussels after a day of shopping!
Hungry for Asian food? Check out Osaka – Cocina Nikkei in Bogota, where you'll be served up incredible Japanese-Peruvian fusion! Enjoy the curry and shrimp, or the spicy chiles in your dish—you won't be disappointed.
How do you embrace the FIRE (Financial Independence and Early Retirement) lifestyle while addressing financial risks? One solution: semi-retire and travel the world. Let's look at how to get there in this comprehensive guide!
About the Author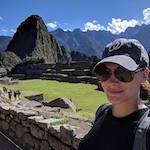 As the editor-in-chief of Frayed Passport, my goal is to help you build a lifestyle that lets you travel the world whenever you want and however long you want, and not worry about where your next paycheck will come from. I've been to 20+ countries and five continents, lived for years as a full-time digital nomad, and have worked completely remotely since 2015. If you would like to share your story with our community, or partner with Frayed Passport, get in touch with me at sarah@frayedpassport.com!
Featured image via Unsplash.
Frayed Passport is a participant in the Amazon Associates Program, an affiliate advertising program designed to provide a means for sites to earn advertising fees by advertising and linking to Amazon.com.