By: Sarah Stone
Does the first scent of autumn leaves fill you with anticipation for cooler weather? Add a new twist to your family's fall activities this year and visit a corn maze! The farms we've featured here are the perfect destination for fun, food, and adventure – let's have a look at the very best corn mazes around the country to consider this fall.
If you live in the Garden State, then one of the best corn mazes is right in your backyard. For seven seasons, this family-owned farm has created a massive maze that spans three acres. It is divided into a quick path for children and a longer path for adults. Each year, the staff chooses a theme and uses a birds-eye view to carve a stunning picture over the fields. Marvel Comic enthusiasts will love this year's homage to superheroes.
Use high-tech texting and GPS features in the maze to find your way. Other activities available include picking sunflowers or pumpkins. With over 40 activities and a concession stand, your family can fill a whole day with adventure! The farm is open each Saturday and Sunday from 10:00am to 5:00pm, including Fridays during October.
The Midwest is the epicenter of American farming, so it's no wonder that Indiana has one of the region's largest corn mazes. Are you ready to trek through a corn labyrinth spanning 18 acres? Test your puzzle solving skills to exit the Xscape Maze before time is up! After exploring the mazes, let your gang take advantage of the farm's other activities, such as the Tumble Tubes or the Duck Races.
For an extra fee, go panning for gemstones or compete in a game of laser tag. Exploration Acres is open from September 13 through October 27. Hours of operation are Fridays 6:00pm to 11:00pm, Saturdays 10:00am to 11:00pm, and Sundays 12:00pm to 7:00pm. During October, you can also visit Thursdays from 6:00pm to 10:00pm.
Many are shocked to find that the Sunshine State has fields of corn. If you're in the Mount Dora area, stop by Long & Scott's Farm, famous for their corn chowder and other thrilling, harvest-themed activities. Don't forget to venture through the winding trails of the Rock Labyrinth. If you are looking for photo opportunities, then you'll want to capture the kids flying down the 60-foot-long sand tunnel in a potato sack.
Watch the joy on your children's faces as they frolic through a castle-themed playground and bounce through the air on the giant jumping pillow. Don't forget your fishing gear, as the farm features a catch & release pond too. The festivities begin on October 5 and last through December 28 each weekend. Their hours of operation are Saturdays from 10:00am to 5:00pm, and Sundays from 12:00pm to 5:00pm.
The Treworgy Family Orchard is one of the best-kept secrets in Maine: for 18 years they have mesmerized visitors with their themed corn maze. This year, visitors can make their way through the 4-acre outline called "Blueberries for Sal." It is especially challenging to do a night maze, but thousands are up for it.
At this working farm and orchard, you can enjoy picking seasonal berries, apples, and pumpkins. Learn about time-honored farming skills and take part in a variety of special events. Hours of operation are Tuesday through Sunday from 10:00am to 7:30pm.
Not only is the Bluegrass State a musical mecca, but it is home to a high-rated corn maze. Step back into gentler times when farming was the life and heart of the family. The Devine family is celebrating their 12th annual corn maze attraction this year by honoring the Kentucky Farm Bureau in their design. Spend a day wandering through the maze and exploring the farm's petting zoo and other family-oriented activities.
You can experience the thrills of ziplining and have a friendly paintball battle in the field. Do you like fresh corn and vine-ripened pumpkins? Find these and other farm-fresh goodies onsite. Stay until evening and gather around the fire pit for songs, laughter, and free marshmallow roasting. They are open from September 13 through November 3, and their hours of operation are Fridays from 6:00pm to 10:00pm, Saturdays from 10:00am to 10:00pm, and Sundays from 1:00pm to 5:00pm.
Make Seasonal Memories
Load the car with family and friends and plan an epic trip that hits these autumn hot spots! There's no better way to celebrate the fall season than by getting lost in a corn maze or two. After all, they were the inspiration behind the popular escape rooms of today.
About the Author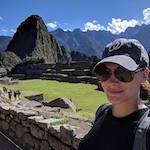 As the editor-in-chief of Frayed Passport, my goal is to help you build a lifestyle that lets you travel the world whenever you want and however long you want, and not worry about where your next paycheck will come from. I've been to 20+ countries and five continents, lived for years as a full-time digital nomad, and have worked completely remotely since 2015. If you would like to share your story with our community, or partner with Frayed Passport, get in touch with me at sarah@frayedpassport.com!
Featured image via Unsplash.
Frayed Passport is a participant in the Amazon Associates Program, an affiliate advertising program designed to provide a means for sites to earn advertising fees by advertising and linking to Amazon.com.