By: Sarah Stone
As world's third-largest island, Borneo presents a tapestry of fascinating history and geography in Southeast Asia. It's divided politically by three different countries—Malaysia, Brunei, and Indonesia, with Indonesia controlling about 73% of the island—and it almost evenly straddles the northern and southern hemispheres.
Throughout Borneo, you'll find fascinating cave systems and rainforests—and if you ever have the chance to travel here, you must visit the Gunung Mulu National Park, a UNESCO World Heritage Site showcasing both of these natural wonders.
Let's go on a journey to explore this wonderful park, and learn a bit more about what you can see and do here!
Mount Mulu
The park's namesake, Mount Mulu, stands 2,376 meters high and is comprised of sandstone and shale—which made initially summiting this peak incredibly difficult for early explorers. Today you can access the mountain through a series of hiking trails, with one leading to the summit. If you're up for a four-day challenge (and fantastic views of the Borneo rainforest), this is a fantastic way to test your strength and stamina.
The Caves of Gunung Mulu National Park
Gunung Mulu National Park is most famous for its extensive array of remarkable limestone caves, which are being mapped in detail as part of the Mulu Caves Project—a series of ongoing expeditions undertaken by over 100 scientists since the 1970s. Two of the National Park's most famous are Deer Cave and Clearwater Cave:
Deer Cave: One of the largest caves on the planet, and one of the most famous tourist attractions in the park, with about 25,000 visitors every year.
Clearwater Cave: Another massive cave system at just about 234 kilometers long, Clearwater Cave is still being mapped by scientists who are gaining a deeper understanding of just how interconnected the cave system is here.
Within these subterranean marvels, you'll see incredible rock formations sculpted over millions of years by water erosion and other natural processes—you'll also see stalactites, stalagmites, and flowstones. There are research expeditions you can join, though if you'd just like to visit and learn a little more about the Gunung Mulu National Park, there are many tour opportunities in the area as well.
The Forests of Gunung Mulu National Park
Gunung Mulu National Park is home to 17 vegetation zones, including peat swamps, lowland forests, heath, and more. In general, the park is in a tropical rainforest setting, meaning there's no dry season here. A few of the plant types you'll find here include:
Pitcher plants: The carnivorous plants can hold up to 3.5 liters of water!
Orchids: There are more than 1,000 different orchid species here, some of which are unique to the island.
Corpse flower: The rafflesia is the world's largest flower species (it can get up to 40 inches wide and weigh up to 22 pounds) and smells like rotting flesh.
Ferns: There are 500 species of fern growing throughout the Gunung Mulu National Park, including tree ferns, which can grow up to 30 meters high.
Mulu National Park offers an array of trails and hikes that allow you to explore its natural beauty—one popular option being the Headhunter's Trail, which leads you on a multi-day trek through the rainforest, across rivers, and into local villages, offering a rare glimpse into the park's natural wonders and cultural history. There are many different trails and treks you can choose from throughout the park, with options for hikers and adventurers of all skill and comfort levels.
Wildlife of the Gunung Mulu National Park
Beyond its geological splendor and dense forests, Gunung Mulu National Park is home to lots of amazing animals, including:
Primates: Probably the park's most notable inhabitants, some of the primates you'll find here include Bornean white-bearded gibbon, the crab-eating macaque, the silvery langur, and the famous Bornean orangutan.
Birds: You can see more than 300 species of birds here, including the helmeted hornbill, rhinoceros hornbill, the crested fireback, and the black-throated wren-babbler.
Bats and swiftlets: Within the caves, there are tons of bats, which provide a fantastic show at dusk as they come out to hunt for insects.
Insects: Speaking of insects, there are many species of butterflies—1,500 species of butterflies and moths alone—beetles, ants, and…cockroaches (including enough cave-dwelling roaches that there's actually a cave famous for them).
Reptiles and amphibians: Throughout the park, you can spot the crocodile monitor, the Bornean flat-headed frog, the Gunung Mulu stream toad, and many more.
You may also catch a glimpse of the Bornean pygmy elephant, a sun bear, the Sunda pangolin, the clouded leopard, the Malayan civet, and others!
Ready to Travel?
Whether you're interested in joining a research team, or going birdwatching and hiking, or exploring the intricate cave systems and beyond, there's something incredible to see within Gunung Mulu National Park. This wonderful place in Southeast Asia is home to incredible wildlife and otherworldly plants and geological formations—and is sure to leave you breathless!
Have you had the chance to visit Borneo—or other tropical destinations? Share your advice and stories with the Frayed Passport community!
About the Author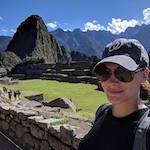 As the editor-in-chief of Frayed Passport, my goal is to help you build a lifestyle that lets you travel the world whenever you want and however long you want, and not worry about where your next paycheck will come from. I've been to 20+ countries and five continents, lived for years as a full-time digital nomad, and have worked completely remotely since 2015. If you would like to share your story with our community, or partner with Frayed Passport, get in touch with me at sarah@frayedpassport.com!
Featured image by Nur Nafis Naim on Wikimedia Commons.
Frayed Passport is a participant in the Amazon Associates Program, an affiliate advertising program designed to provide a means for sites to earn advertising fees by advertising and linking to Amazon.com.