By: Sarah Stone
If your favorite part of winter is getting away from it, you're not alone. And nothing beats the winter blues like delicious drinks on a tropical beach! Whether you prefer a resort where everything is taken care of, or camping and getting in tune with nature, there are plenty of options to get away from the cold and the dark, and enjoy the bright, warm sunshine. If you can't decide where you'd like to go this winter, we're here to help: let's have a look at some sunny, warm destinations for beating the winter blues!
Maldives
The Republic of Maldives is made up of thousands of small coral islands. Located in South Asia on the Arabian Sea, you can relax on white sand beaches, enjoy the gorgeous weather, and take part in plenty of activities like snorkeling, kayaking, and hiking. 
Ideal for both backpackers and luxury travelers alike, the Maldives is famous for their five-star hotels, swim-up bars, and gorgeous bungalows on the water. Go diving and get up-close with sharks, sea turtles, and colorful fish, or enjoy a lazy day reading, resting your eyes, and soaking up the sun. While you're there, go island hopping and explore further!
Bora Bora
Just off the island of Tahiti, Bora Bora is a tiny and spectacular island full of colorful lagoons, coconut trees, and plenty of activities to keep you active during your tropical vacation. Whether you're traveling solo or with family or friends, you are bound to find plenty to enjoy here—stay in an over-the-water bungalow, take in the sunset, and wake up to the sounds of the sea. 
There's tons of diving here, as well as tours in glass-bottom boats, which will show you coral, beautiful fish, and other amazing underwater sights. Go hiking, take out a canoe or paddle boat, or sign up for an adventure four-wheeling and exploring!
Dominican Republic
The Dominican Republic is next up on our list of warm destinations—it's perfect for travelers wanting an island getaway in Central America or the Caribbean. From great beaches and affordable resorts, to fantastic weather year-round, there are so many reasons to fall in love with the Dominican Republic. Choose an all-inclusive resort in a small town or in the Capital of Santo Domingo – the oldest city in the Americas.
Punta Cana is one of the Dominican Republic's most popular resort areas, and comes with a deep history. Enjoy relaxing on the beach, try a swim-up bar, or just lounge around the pool. Known as the Coconut Coast, you will find miles of beautiful beaches here.
Costa Rica
Any place you choose in Costa Rica will be fantastic for a winter getaway. Home to lush greenery, beautiful blue oceans, and a variety of wildlife, Costa Rica is perfect for solo travelers, romantic vacations, or a fun group trip.
From resorts to cottages and camping, you will have no problem finding the ideal accommodations for your comfort level, interests, and budget. And there's certainly no shortage of activities: go tubing down a river, try zip-lining, go hiking to a waterfall, or enjoy a boat tour. Travel to the beach or the jungle, the city or the countryside, and go snorkeling, birdwatching, exploring caves, riding horses, and so much more. 
Galapagos Islands
If adventure, beauty, and wildlife are all part of your winter vacation plan, then head to Ecuador. The Galapagos Islands are made up of several small islands, and are home to some of the world's most famous unique wildlife, such as giant tortoises, blue footed boobies, and Galapagos penguins. 
You'll need to sign up for a guided tour to visit these islands, and there is so much to do while you're there (and in other parts of Ecuador!): snorkeling, surfing, ferry tours, diving, hiking, and of course, visiting the world-famous wildlife refuges.
Ready to Travel?
Whether you want to kick back and relax, or get out for a once-in-a-lifetime adventure, there is so much more to do than staying at home to escape the cold. Travel to one of these gorgeous, sunny and warm destinations and make memories that'll last forever! 
About the Author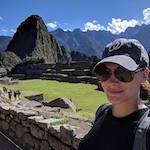 As the editor-in-chief of Frayed Passport, my goal is to help you build a lifestyle that lets you travel the world whenever you want and however long you want, and not worry about where your next paycheck will come from. I've been to 20+ countries and five continents, lived for years as a full-time digital nomad, and have worked completely remotely since 2015. If you would like to share your story with our community, or partner with Frayed Passport, get in touch with me at sarah@frayedpassport.com!
Featured image via Unsplash.
Frayed Passport is a participant in the Amazon Associates Program, an affiliate advertising program designed to provide a means for sites to earn advertising fees by advertising and linking to Amazon.com.